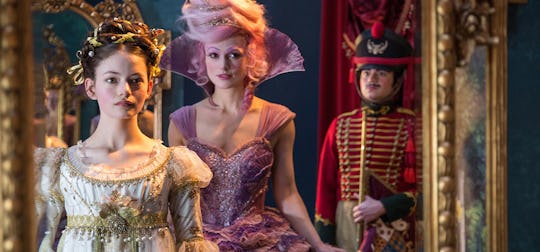 Disney
If You're Looking For A Fun Family Film, 'The Nutcracker' Has Your Back
If you're not yet ready for the holiday season, buckle up because The Nutcracker and The Four Realms hits theaters Friday, November 2. The classic Christmas ballet scored by Pyotr Ilyich Tchaikovsky is about a young girl and the nutcracker that comes to life. Honestly, it's the stuff of my nightmares, but I digress. As a mom, I know locating child-appropriate movies to take my kids — ages 12 and 7 — to can sometimes be tricky. So is The Nutcracker and The Four Realms appropriate for kids under ten?
The site Common Sense Media says that, while the Nutcracker rating is certified PG, there may be some "dark elements that could be frightening to young kids." Sounds like a "go cautiously" kind of thing and it all depends on what you know your children can tolerate. Directed by Lasse Hallström, The Four Realms is a live-action fantasy inspired by E.T.A. Hoffman's original version of the story. Mackenzie Foy plays the curious and adventure-stricken Clara in this adaptation — you might remember her from Twilight as a Cullen kid, Renesmee, FYI. It begins with the traditional Christmas Eve celebration with her family only, it's not the tradition she remembers. This is the first year without her mother.
As Clara hunts for the coveted "golden key" that's supposed to unlock the last gift her mother left before death, you already feel for this girl and understand her quest. Obviously, there's a string or thread-like thing that leads to the key and obviously, her godfather, Drosselmeyer (played by Morgan Freeman), has to be the one to tell her to follow it. But she has to be brave enough to take the challenge. If you aren't sure where this story is going, and haven't seen the ballet, the string (or thread, or whatever) is the connector between her reality and this fantasy world where she has to find the key and make sure the four realms are back in order before she can go. Sounds simple enough.
Of course, as only the best fantasy movies go, there has to be a villain of sorts to keep the hero from getting what he or she wants. In this case, it's Mother Ginger (played by Helen Mirren) who goes on a tirade to take over all four realms and — you guessed it — only Clara has the power to stop her. Oh, and that key she needs? It's in the fourth realm guarded by Mother Ginger. On her way to set things straight, she inevitably stumbles into a parallel world where she meets Phillip, the soldier (played by Jayden Fowora-Knight), and those who watch over three of the aforementioned realms: Land of Snowflakes, Land of Flowers and Land of Sweets which is governed by none other than the Sugar Plum Fairy (played by Keira Knightley.
All of this, plus vibrant colors abound should make for a great all-ages family night out — as long as you go in knowing about the darker elements. Did I mention this version of Nutcracker is channeling real-life ballet performances from Misty Copeland — first black woman promoted to principal dancer at the American Ballet Theater? She's set to play The Ballerina, but it remains to be seen what her exact role entails in the live-action movie aside from amazing dances.
With November on the horizon, there are a few other holiday, kid-friendly, films slated for release in the coming weeks. A real grinchy Grinch, some fantastic beasts, and this guy named Ralph who like to wreck things will all be family movie options by Thanksgiving weekend. Until then, kids of all ages should be able to enjoy the Nutcracker and the Four Realms if you go in prepared for a few darker themes.