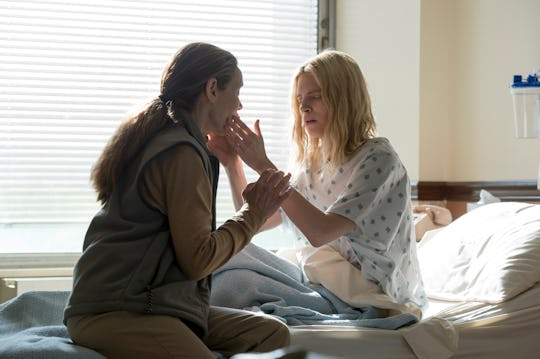 Netflix
Is 'The OA' Based Off Of A Book? The Netflix Series Is A Total Mystery
With the massive success of barely-marketed Stranger Things, Netflix realized that minimal advertising might be the way to go. The Duffer Brothers' series debuted its first season back in July and immediately became a sensation. The small-town sci-fi/horror thriller was much buzzed about – go ahead and try to tell me that everyone you know wasn't talking or tweeting about it for the past five months. Even celebs got in on the Stranger Things obsession. Now, Netflix is looking to replicate that success with a mysterious new series we know little about. But is The OA based off of a book?
It's impossible to say with certainty what the new show is based on – if anything – because next to no information has been released about it. The new series was greenlit by Netflix back in March 2015. At the time, the only information released was the show's title and that it had an impressive pedigree behind it. The OA was ordered straight to series and was created by Brit Marling and Zal Batmanglij, frequent collaborators and a popular pair on the indie circuit. Given that Marling and Batmanglij's previous projects – feature films The East and Sound Of My Voice – were both original productions, it seems pretty certain that The OA will also be an original story.
The two attached production companies, Plan B Entertainment (Brad Pitt's production company) and Anonymous Content, are well-known hit-makers. Plan B produced award-winning films like The Departed, 12 Years A Slave, The Big Short, and, most recently, Moonlight. Anonymous Content is behind films like Eternal Sunshie of the Spotless Mind, Spotlight, and Winter's Bone, as well as TV shows including True Detective, The Knick, and Mr. Robot. Beyond this behind-the-scenes information, the show's logline was kept under wraps – all that was known was that there might be "mystery elements" to the series.
Since its initial order, little has been reported about the secretive new show, other than casting news. That all changed on Monday, when the streaming channel began marketing the upcoming series – and surprisingly announced that it would be premiering later in the same week. The marketing very quickly got a little weird, with Netflix first tweeting out a series of increasingly odd tweets before the first video clips (and, eventually, the full first-look trailer) made their debut.
There are plenty of Stranger Things vibes in the full trailer, which clarifies that the The OA will be about a young, formerly-blind woman named Prairie Johnson who unexpectedly turns up suddenly able to see, after disappearing seven years earlier. Fans of sci-fi/horror/mystery can get ready to start theorizing – there's already buzz about what mysterious circumstances could be behind Prairie's situation, thanks to the show's puzzle-like Instagram account.
Alongside Marling in the lead role, The OA also stars Jason Isaacs (Harry Potter films), Scott Wilson (The Walking Dead), and Emory Cohen (Brooklyn).