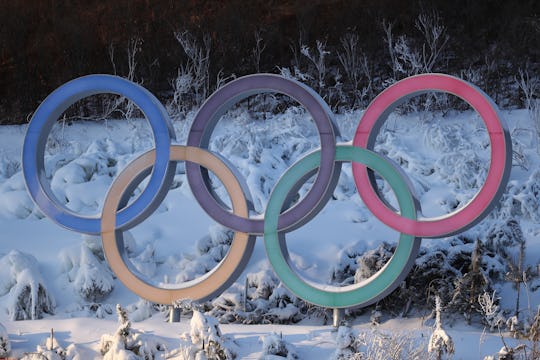 Lars Baron/Getty Images Sport/Getty Images
Opening Ceremony Attendees Will Brave Brutally Cold Temps At The 2018 Winter Olympics
The 2018 Winter Games in PyeongChang, South Korea are officially upon us, but wintry weather and freezing cold temperatures could very well put a damper on the events. And considering that the opening ceremony stadium is somewhat outdoors, both spectators and those athletes competing at this year's Winter Games will definitely get a taste of the bitter cold.
As Reuters reported, the main stadium for the Winter Games is open-air, and lacks a roof, "leaving an estimated 35,000 spectators, including world leaders, exposed to extreme cold for the opening ceremony" on Friday, Feb. 9. Upcoming weather in PyeongChang could make this year's Winter Games the coldest in 24 years, according to the Evening Standard, since the 1994 Winter Games held in Lillehammer, Norway. It's expected to be so cold, in fact, that Olympic skiers have reported that the frigid temperatures warped their skies, forcing them to throw them away after practice runs, according to Reuters.
Here's a look at the open-air stadium where thousands will gather for the opening ceremony on Friday at 6 a.m. ET (5 a.m. CST and 3 a.m. PST). If you're not able to tune into the live event, those in the United States can head over to NBC at 8 p.m. ET for a taped broadcast hosted by Katie Couric.
Reuters reported that Olympic officials in PyeongChang are a bit worried about the weather themselves, reportedly concerned that the lack of room could create "biting winds" that'll make "conditions inside the open-air stadium at the start of the Games seem like minus 14 degrees Celsius." That translates to just about 6.8 degrees Fahrenheit.
A stadium without a roof wasn't always in the plan. Olympic organizers in PyeongChang reportedly spent $58 million on the stadium, according to Fox News, and had reportedly "requested that South Korea add a roof and heating to the structure, which will be torn down after the Games." According to Fox News, their request was rejected and some hundred VIP attendees will be given "bigger and thicker blankets" while watching the events.
Hosting the Olympics is a pricey endeavor and spending a reported $58 million on the stadium is nothing to scoff at, even if it doesn't have a roof. According to the Council on Foreign Relations, the "costs of hosting the Olympics have skyrocketed" in recent years and "the economic benefits" for countries hosting them — including the many athletes and hundreds of thousands of spectators — "are far from clear."
Olympics may draw more tourism at the time and immediately after, but the lack of obvious and economic perks have led to "fewer states interested in playing host and a search for options to lighten the burdens of staging the big event," the Council on Foreign Relations noted.
The frigid temperatures and brutally cold conditions may be tough to bear for those in the PyeongChang stadium on Friday and the upcoming weeks, but Reuters reported that "organizers also plan to use audience participation during pre-ceremony entertainment to help keep spectators warm." Although the outlet didn't report exactly how that'll come about, those tuning in at home should perhaps keep a close eye out for spectators doing the wave as they chug hot cocoa.
If you're headed to PyeongChang for the Winter Olympics, then you'll definitely want to bundle up, that's for sure. But for those watching from the warmth and comfort of your home, have an extra hot cocoa for the Olympians truly braving these chilly conditions.
Check out Romper's new video series, Bearing The Motherload, where disagreeing parents from different sides of an issue sit down with a mediator and talk about how to support (and not judge) each other's parenting perspectives. New episodes air Mondays on Facebook.