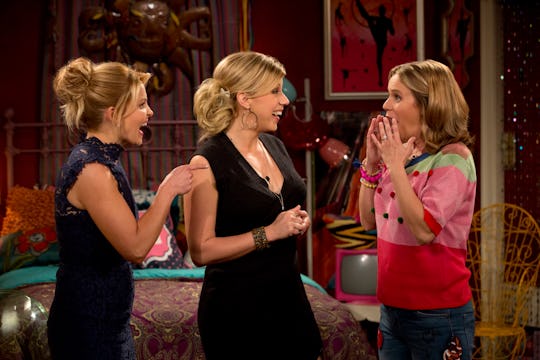 Michael Yarish/Netflix
Is The Original Nelson Returning To 'Fuller House'? Jason Marsden Has Been Replaced
(Warning: This post contains spoilers from Episode 11 Of Fuller House.) In the most exciting episode of Fuller House Season 2, D.J. and Kimmy attend their high school reunion, which is a fantastic opportunity to reminisce about the 90s, and revisit some of D.J. and Kimmy's high school friends, enemies, and ex-boyfriends. But is the original Nelson returning to Fuller House? Nelson comes back, but unfortunately not in the way that we might have hoped for.
In the original Full House, Nelson was D.J.'s slightly dweeby and over-achieving boyfriend after she broke up with Steve, which I will still never understand. (How does one break up with Steve?) At the reunion, she of course runs into him, where he immediately begins telling her how many houses he owns and all about his private jet. Some things never change. Except Nelson's face — which definitely did. The original Nelson was played by Jason Marsden (who is not actually related to the bedimpled sexy robot James Marsden). Most people could see that the Nelson grown up D.J. was trying to get rid of was not the original Nelson. So what happened to Jason Marsden? Is he suddenly too good for Full House? Did Full House just forget to call him? What's the deal?
It turns out that Marsden was asked to reprise his role as Nelson, but unfortunately he had a scheduling conflict and wasn't able to make it on the day he would have had to film, as he explained in a three-part video series on Twitter. He was actually asked to be a celebrity guest at Dragon Con in Atlanta, and as he'd already agreed, he couldn't back out and film Fuller House at the same time. He then urged fans not to say "F Fuller House!" because everyone was upset that he wasn't going to make it. Nelson might not have been the best of D.J. (and Kimmy)'s boyfriends in the series while they were in high school, but he was highly entertaining. And frankly, no one can compete with the real Nelson.
Replacement Nelson was still fun though. He was played by veteran actor Hal Sparks, who's been acting since the late '80s. He and Viper, who was played by the same actor, David Lipper, who played Viper in the original series, came back to fight over D.J. once again, complete with arm wrestling. But of course, off-beat heartthrob Steve swooped in to rescue her once again.