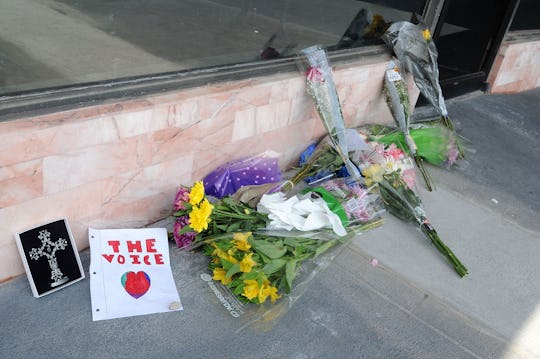 Gerardo Mora/Getty Images Entertainment/Getty Images
Is the Orlando Pulse Shooting Related To Christina Grimmie's Shooting? There Was One Link
On Saturday morning, fans of The Voice were shocked to wake up and hear that singer Christina Grimmie had been shot and killed outside the Plaza Live theater in Orlando, Florida. And, on Sunday morning, the country was shocked to wake up and hear that a shooting at the Pulse nightclub in Orlando led to the deaths of at least 50 people. Considering the two incidents were just 24 hours apart in the same location, many found themselves wondering whether the Pulse shooting was related to Grimmie's shooting.
(Update: The FBI has updated the death toll to 49 victims. The shooter was also killed.)
But, it seems the location is the only thing both tragedies have in common, the worst example of a coincidence. According to ABC News, officials in Orlando have confirmed that both were isolated cases. Though a motive for Grimmie's death has yet to be determined, the lone gunman appeared not to know the singer personally, and also took his own life after shooting Grimmie when the Voice contestant was signing autographs for fans following a show.
When it comes to the shooting at Orlando's Pulse nightclub, even less is known regarding the gunman and the motive, beyond its lack of a link to Grimmie's shooting. That said, police, who have named the gunman as 29-year-old Omar Mateen, are calling the Pulse shooting an act of terrorism, and the perpetrator a "lone wolf." The suspect was confirmed killed by authorities as well.
Early Sunday morning, a gunman entered the Pulse nightclub, taking many club goers hostage in a three-hour span. A total of 30 people were rescued during the hostage situation at the club — which held about 320 individuals at the time of the shooting, according to authorities — and over 50 people are currently being treated at hospitals.
Said Orlando Mayer Buddy Dyer Sunday, "Tonight our community witnessed or experienced a very horrific crime ... Many lives were lost, and many more individuals were impacted by witnessing the crime."
After a frightening 48 hours in Orlando, residents can breathe a sigh of relief knowing that, according to authorities, there is no threat of more attacks in Florida following both incidents. But, considering there have been over 150 mass shootings in 2016 alone in the U.S., sadly, it seems relief might be short-lived.