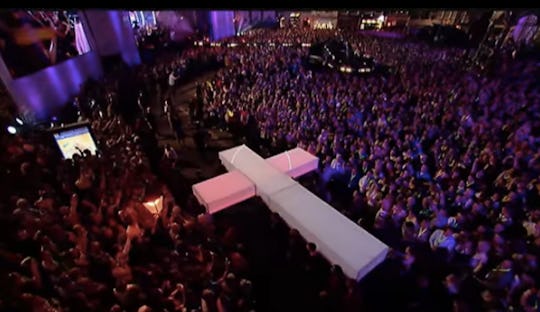 The CatholicTV Network on YouTube
Is 'The Passion' Live? It's Taking Over New Orleans
A musical about the crucifixion of Jesus may sound out there, but Fox is airing The Passion live on Sunday night and viewers on social media are looking forward to it. The musical is going to be aired live from New Orleans, with Tyler Perry narrating and hosting the event. After the success of other musicals like Grease, The Wiz, and Peter Pan in recent months, this seasonal showing is going to be totally over the top. It's set in the present day and will feature a a procession of hundreds of people carrying a 20-foot cross from Champion Square to a live stage at Woldenburg Park on the banks of the Mississippi River, according to Deadline.
The live crowd is part of the fun, says Mark Bracco, who's the executive producer for the event. He told Variety, "There are going to be a few moments where the thousands of the people in the park are going to become a part of the live show, just as if they were in church on Palm Sunday where there are people in church saying, "Crucify him! Crucify him!"
Other versions of this show have been widely popular in the Netherlands, where it's aired every year since 2011 and is hugely popular.
According to Fox execs, you can enjoy the show even if you're not religious or know the story. With New Orleans as a backdrop and the songs being all contemporary, not Christian, hits, it's just a really good performance. "I think anybody could relate to this story whether they are believers in the Christian religion or not. We try to treat the show in a way where it will be as powerful for a believer as it will be for a nonbeliever," Fox president David Madden told the Los Angeles Times.
There's an all-star cast that could entice viewers to tune into the live action on Sunday night, too. Trisha Yearwood will be playing Mary, Jencarlos Canela as Jesus, Seal as Pontious Pilate, and Chris Daughtry as Judas. You cannot get more modern than a diverse cast like this
If you're not sure about tuning in for the live broadcast, never fear. Netflix has announced that it will pick up The Passion for international distribution as early as the following Tuesday. If it turns out to be as big a hit as the Dutch version, you won't have to miss out. Phew.