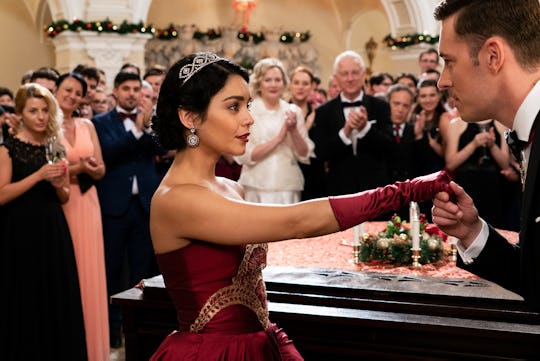 Netflix
'The Princess Switch' Is Going To Be Your New Holiday Favorite
Netflix is spreading the holiday cheer with its brand new holiday movie, The Princess Switch. Vanessa Hudgens plays the part of Duchess Margaret and her doppleganger, Stacy De Novo, and when the two meet in the fictional country of Belgravia, they decide to swap lives. The film's story is reminiscent of The Parent Trap and The Princess Diaries — movies that were adapted from books. But is The Princess Switch based on a book too?
While it would make for a great holiday read, it turns out that The Princess Switch isn't actually based on a book. The screenplay comes from TV writers Robin Bernheim and Megan Metzger, who previously worked on Hallmark's When Calls the Heart series together. While this seems to be Metzgers first foray into the holiday movie genre, Bernheim wrote the 2016 Hallmark movie I'll Be Home for Christmas starring James Brolin and Mena Suvari.
The Princess Switch tells the story of Stacey De Novo, an American baker who is invited to participate in a baking competition in Europe. The competition brings Stacey to Belgravia, where she meets Margaret, the Duchess of Montenero, who is on her way to marry the country's prince, Prince Edward (Sam Palladio). Margaret is tired of being in the spotlight and craves a life of normalcy, and Stacey is just looking for a little more luxury and romance in her life. So when they realize that they look exactly alike, the dopplegangers decide to take a break from their own lives, and temporarily swap places to see and feel how the other half lives.
In the trailer for The Princess Switch, viewers can catch a sneak peek at all the hijinks that ensue when the women try to immerse themselves in each other's completely different lives. Stacey ends up having to pretend she knows British lingo, royal etiquette, and how to ride a horse, while scheduled to spend two days exclusively with the prince. Margaret finds herself getting close to Stacey's coworker and friend, Kevin (Nick Sagar) and his daughter, while she prepares for the baking competition — and yep, she has no idea how to bake. While the two try to adjust to a life completely opposite from their own, they also find themselves falling for each other's beaus, so it will be exciting to see what happens when they swap back to their own lives.
With the release of The Princess Switch, it looks like Netflix is continuing to up their holiday movie game, which is great for fans who were once limited to just Hallmark or Lifetime for original holiday fare. Last year, the streamer released A Christmas Prince, which was so popular that it has a sequel coming, called A Christmas Prince: The Royal Wedding, which is set to release on Nov. 30. Luckily, Netflix is adding more original Christmas content to their catalog this year, including the The Christmas Chronicles, which releases on Nov. 22. The movie comes from producer Chris Columbus and tells the story of two siblings who sneak into Santa's (Kurt Russell) sleigh on Christmas Eve, accidentally crash it, and then help him figure out how to save Christmas. The Holiday Calendar, which is already streaming on Netflix, tells the story of a talented photographer (Kat Graham) who inherits her grandmother's magical Christmas advent calendar, which seemingly predicts the future and helps her find love.
The streamer is also featuring a few classic Christmas movies this year, including Love Actually, Bad Santa, and Bad Santa 2. With a line-up like this, I know my Netflix watchlist is going to be full of holiday content, and honestly, I already feel the Christmas cheer.
The Princess Switch premieres on Nov. 16 on Netflix.