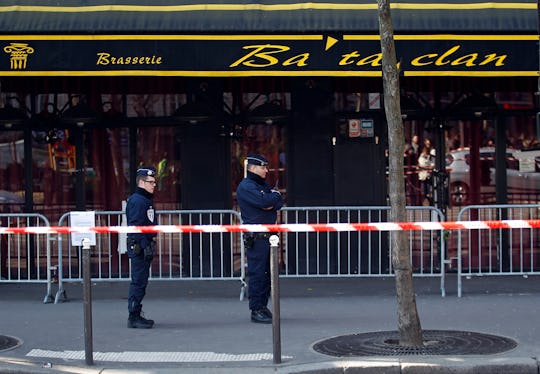 Thierry Chesnot/Getty Images News/Getty Images
Is The Pulse Orlando Shooting Related To The Paris Nightclub Shooting?
Early Sunday morning, a gunman opened fire in Orlando's Pulse nightclub, a gay nightclub, wounding at least 53 people and killing at least 50, according to CNN. Ron Hopper, assistant special agent in charge of the FBI's Orlando bureau, told CNN that the shooter has "leanings towards (Islamic terrorism)" and that the incident is being treated as an instance of domestic terrorism. The shooting has terrifying similarities to the shooting in the Bataclan, one of the sites of the Paris terror attacks in November, so some are wondering if the Pulse Orlando shooting is related to the Paris nightclub shooting? What little information is available makes it too early to tell.
(Update: The FBI has updated the death toll to 49 victims. The shooter was also killed.)
The shooter, who was identified as Omar Mateen, was a U.S. citizen from Port St. Lucie, Florida. Police suspected he had ties to radical Islam or terrorism, and the incident is being investigated as domestic terrorism, according to CNN. No terrorist organization has yet claimed responsibility for the attacks, which makes it difficult to say whether the Pulse nightclub attack was connected to the Paris terror attacks or the Bataclan attack, specifically. The terrorist attacks in Paris were committed by ISIS, but until ISIS claims responsibility for the attack in Orlando, it's difficult to say whether the two were at all connected.
Additionally, it's even a stretch to say that the Orlando attack was the result of radical Islam. An FBI official said during a news conference, according to USA Today:
We do have suggestions that that individual may have leanings toward that, that particular ideology. But right now we can't say definitively so we're still running everything around.
Until official investigate the gunman's background more, the connection between the Pulse shooting and the Bataclan shooting will remain unclear. For now, people on social media are urging others to not say the shooter's name and to instead remember the victims. Further, the LGBT community is telling people to avoid "praying" or "sending thoughts" to victims and their families and is instead urging people to help in tangible ways, like donating blood, donating to an LGBT advocacy organization, or contacting their local representative to passionately demand gun violence prevention measures.