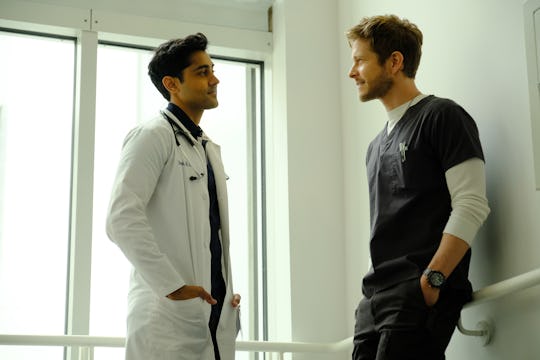 Guy D'Alema/Fox
'The Resident' Dives Into The Dark Underbelly Of The Medical World
If you've been sitting around thinking that it's been a while since there was a good medical drama on TV as I know I have, then you'll be pleased to hear about The Resident, a new show coming to FOX on Sunday, Jan. 21. But how accurate will these storylines be and is The Resident based on a true story? Well it's not true in the traditional sense, as in, the characters and even the hospital itself are all pure fiction. But the show does aim to show viewers what working in medicine is actually like — with a good dose of drama and Matt Czuchry thrown into the mix.
The show follows in the footsteps of the various venerable medical dramas that came before it, including ER, House, and Grey's Anatomy, starring improbably attractive doctors with an added shot of medical cynicism. "Medicine isn't practiced by saints. It's business," Emily VanCamp's character Nicolette Nevin is heard saying in the trailer. Well great, now I'm never going back to the hospital because I am scared. The truth is that doctors are humans and humans make mistakes occasionally — and that is the truth, even if the actual characters and set up of the show is imagined.
In a press release, co-creator and executive producer Amy Holden Jones reveals that, "You will see stories you may not believe," however, "They are all drawn from real life." So while the show is fiction, it is all based on things that really did happen to someone at some time, just maybe not specifically to these particular people. And, of course, you have to add some extra drama to it in order to entice viewers. Perhaps the show will take the Law and Order route and present "ripped from the headlines" plots.
The show stars Czuchry as Dr. Conrad Hawkins, who is already giving off a very distinct McDreamy vibe. Manish Dayal is Dr. Devon Pravesh, about to be disillusioned as to the real nature of the medicine business. The press release describes the show as a "David and Goliath war" with the young doctors doing their best to fight the cold money-driven health care system that operates "with virtually no oversight." The release also notes that medical error is the third leading cause of death in the United States. This is a true (if not downright terrifying) statistic, so this show will definitely be an intriguing take on a very serious problem for the entire country.
According to the official description, the show centers on a tough, brilliant senior resident who guides an idealistic young doctor through his first day, pulling back the curtain on what really happens, both good and bad, in modern-day medicine. Just from the preview, it's clear that Conrad, Devon, and Nicolette will be pitted against the chief of surgery Dr. Randolph Bell, played by Bruce Greenwood, who accidentally kills a patient and proceeds to try and cover it up. He and all the doctors and nurses in the operating room agree to say the patient had a heart attack. Obviously, this situation isn't one that would be in the newspapers unless there was some sort of exposé. But that doesn't mean it hasn't happened before.
I'm looking forward to seeing what kind of medical world The Resident presents to its viewers. I do know for sure that it will be somewhat different from the hospitals of Grey's Anatomy and ER. And who knows, maybe FOX has landed on the best new hospital drama in recent television. Unless, of course, Jenji Kohan decides to write a series about a group of quirky and misunderstood all-female doctors for Netflix.
Check out Romper's new video series, Romper's Doula Diaries:
Watch full episodes of Romper's Doula Diaries on Facebook Watch.