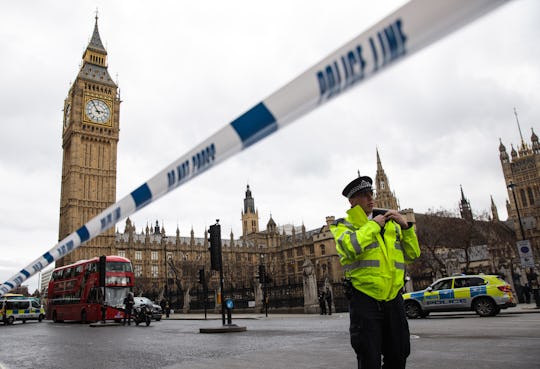 Jack Taylor/Getty Images News/Getty Images
Are The Parliament Attack & The Brussels Attack Related?
Though authorities have yet to label the incident a "terrorist attack," many U.K. citizens are understandably concerned about the cause of Wednesday's stabbing in British Parliament. One possible clue as to its significance? Wednesday marks one year since another, similarly harrowing event. So is the U.K. Parliament attack related to the Brussels attack anniversary? The latter of the events resulted in 32 deaths and over 300 injuries.
Update: According to the Associated Press, British police late Wednesday evening raised the death toll in the Parliament attack to five. At least 40 people were injured.
Claimed by ISIS, the Brussels attack at Zaventem airport in 2016 was remembered with a moment of silence on Wednesday afternoon. "It's the responsibility of each and every one of us to make our society more humane, and more just. Let's learn to listen to each other again, to respect each other's weaknesses," King Philippe told crowds at the memorial, working to help the country's attempt to heal from the wounds caused by such tragedy.
Hours after the memorial event took place, the U.K. Parliament attack occurred in London — a situation in which an assailant crashed a car into a perimeter fence of Parliament, then rushed into the Parliament building, according to CNN. In the car crash, the attacker reportedly ran his SUV over multiple pedestrians. After exiting the vehicle, he reportedly stabbed a policeman. The attacker was then shot by police, according to CNN.
The Telegraph reported that "at least two people have died" as a result of these events, with more than a dozen injured presently. Though it wasn't initially labeled as a terrorist attack by police, the event was treated as a "terrorist incident until we know otherwise" by authorities. With an investigation still underway, authorities are revealing few details as they attempt to uncover the cause of the Parliament attack. Metropolitan police commander BJ Harrington was, however, able to confirm that police were made aware of "a person in the river, a car in collision with pedestrians and a man armed with a knife."
The potential that these attacks might be linked to the Brussels bombings, which were linked to the Paris attacks in 2015, paints a dangerous picture for ISIS' targeting of European residents. Even a year out, "authorities are still unsure just who in the Islamic State group organized and ordered the attacks," despite 59 suspects remaining in custody and 60 suspects out on bail, Reuters found. If the Parliament attack is linked to the Brussels attack, ISIS' deadly reach will have expanded — a reach that has already extended to more than 1,200 people, according to The New York Times' estimates.