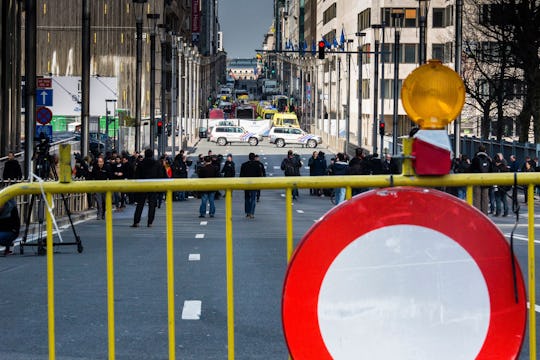 HATIM KAGHAT/AFP/Getty Images
Is The U.S. In Danger After The Brussels Attack? The Country Isn't Taking Any Chances
At least three explosions occurred in Brussels on Tuesday morning, leaving at least 34 people dead and more than 170 people injured. As CNN Live reported, the first two explosions occurred around 8 a.m. local time at the Zaventem Airport. The third explosion occurred about an hour later at a Belgium subway station near the suburb of Maelbeek. An attack of this nature leaves people around the world fearing for their safety. For many Americans, that means wondering is the U.S. in danger after the Brussels attack.
Update: ISIS has claimed responsibility for the terror attacks in Brussels Tuesday.
Although there has yet to be an official statement regarding the United States' safety, major cities are not taking any chances. CNBC reported that, as part of a standard operations, the New York Police Department will increase security at mass transit points, such as subways stations, train stations, and airports. There will also be added security measures taken at bridges, tunnels, and major city landmarks. New York City Mayor Bill de Blasio said Tuesday that the NYPD is taking steps to increase security across the city, which was the site of the Sept. 11, 2001 terror attacks, according to CBS News:
The community of nations has to stand together in moments like this and reject the the forces of terror and the appalling violence that they reek upon innocent people. We in New York City stand ready to fight against terror in every way.
CBS reported that the NYPD deployed its Critical and Strategic response units, which will monitor security at transit hubs as well as international consulate locations across the city. Gov. Andrew Cuomo also sent National Guard members to both of the airports in New York — John F. Kennedy International Airport and LaGuardia Airport — even though he stressed that the city has not received any kind of credible threat, according to CBS.
Similarly, Metro Transit Police in Washington, D.C. will be adding additional patrols, according to The Hill. In a tweet earlier today, the Metro Transit Police said that, although there is no credible threat to the city at this time, there will be additional K9 sweeps and patrols as precaution.
Although he is currently in Cuba, CNN reported that President Barack Obama has been briefed on the Brussels attacks, but there is no word on when he will release a statement. CNN also reports that the Justice Department and the FBI are coordinating withU.S. government agencies to further investigate the attacks.
The Tuesday attacks in Belgium's capital came four days after the capture of Salah Abdeslam, one of the suspects in the November Paris terror attacks. According to CNN, Adbeslam was captured following a gun battle in the Brussles' suburb of Molenbeek. Many news outlets believe the attacks on Tuesday morning are connected to the arrest of the Belgium-born suspect and, as the New York Times reported, there were heightened security concerns across Western Europe over the possibility of increased threats this past week.
In addition to extra security measures in the U.S., European nations are taking steps to keep citizens safe. USA Today reported that Belgium is on lockdown to prevent any suspects from leaving the country, and flights into Belgium have also been suspended.
This story is developing. . .