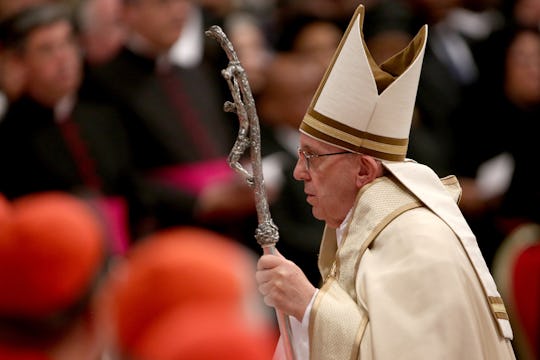 Franco Origlia/Getty Images News/Getty Images
Is The Vatican Addressing Child Sex Abuse Claims?
Irish woman Marie Collins has resigned from the Pontifical Commission for the Protection of Minors, created by Pope Francis three years ago in order to advise the church on how to prevent child sex abuse by clergy members. Collins, a survivor herself, claimed that the Vatican isn't addressing child sex abuse in the church at all, and blames the Commission's failure to make progress on "lack of resources, inadequate structures around support staff, slowness of forward movement and cultural resistance," according to a statement published by the National Catholic Reporter. The Vatican did not immediately respond to Romper's request for comment.
Collins charged that a lack of cooperation on the part of other Vatican offices has stalled the commission, preventing the implementation of policies meant to protect children and hold clergy accountable for committing or covering up abuse. In her statement, she blasted the Vatican's administrators for "put[ting] other concerns before the safety of children and vulnerable adults," a position she called "devastating" and "unacceptable." Collins also speculated on the motives of the officials: "Is this reluctance driven by internal politics, fear of change, clericalism which instills a belief that 'they know best' or a closed mindset which sees abuse as an inconvenience or a clinging to old institutional attitudes?" No matter the reason, Collins doesn't see a way around it.
Collins also wrote that the "last straw" came when she learned that among the policies the Vatican had refused to implement was the mandate that all correspondence from abuse victims receive a response. Collins likened the response to the policy as a "reflection of how this whole abuse crisis in the Church has been handled," paying lip service to victims while not providing any real solutions. Although Collins never met the pope in her three years of service on his Commission, she does believe that he's dedicated to preventing abuse, although she disagrees with some of his actions.
Although the pope has touted a "zero tolerance" policy for abuse, many have derided his claims, and one Italian journalist argued that he's done "close to nothing" to prevent abuse. A promised tribunal intended to punish bishops who enabled or covered up abuse by priests has yet to materialize. According to the Associated Press, the pope's policy of mercy above all has led to him granting clemency to some of the worst offenders, refusing to defrock even those who have been convicted in court of abusing children. Speaking to the AP just days ago, Collins said of the pope's forgiveness, "While mercy is important, justice for all parties is equally important."
Commission president Cardinal Sean O'Malley has invited Collins to continue to advise the Commission, and said in a statement to Vatican Radio that the Commission "will certainly listen carefully to all that Marie wishes to share with us about her concerns," and that he's "deeply grateful for Marie's willingness to continue to work with us in the education of church leaders."