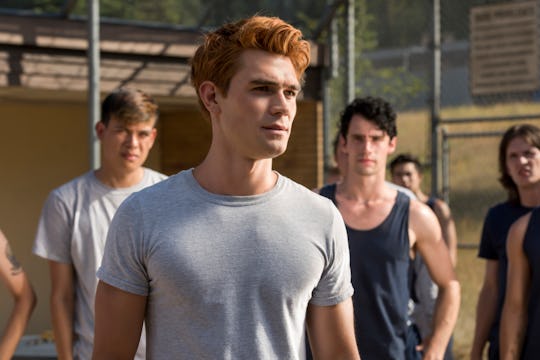 Dean Buscher/The CW
'Riverdale' Fans Think Warden Norton Could Be More Evil Than He Seems
With Season 3 of Riverdale well under way, there's still one looming mystery that fans have yet to figure out. The town's new villain is a monstrous man called The Gargoyle King, who kills teens through a game called Gryphons & Gargoyles. He could be anyone in town, but after watching Warden Norton manipulate Archie and other kids at juvie into fighting each other, some fans are wondering, is the warden the Gargoyle King on Riverdale?
Warning: Spoilers for the first four episodes of Riverdale Season 3 ahead.
Warden Norton (William MacDonald) has been nothing short of torturous towards Archie (KJ Apa), and he seems to be enjoying every moment of it. He has been forcing Archie and other kids at the juvenile detention center to fight each other, and this orchestration feels awfully similar to the game Gryphon & Gargoyles, which manipulates players into putting themselves in dangerous and deadly situations. Dilton Doiley (Daniel Yang) and Ben Button (Moses Thiessen) have already died as a result of the game, and if you consider how bloodthirsty Warden Norton is during the fights in juvie, you can easily picture him as the Gargoyle King.
But, some might think that the Warden is way too obvious of a choice to be the Gargoyle King. On the last two seasons of Riverdale, the villain/killer has turned out to be a parent, and their identity was revealed as a complete shock. In Season 1, Clifford Blossom (Barclay Hope) was the one who killed his son, and in Season 2, the murderous Black Hood turned out to be Betty's (Lili Reinhart) dad, Hal Cooper (Lochlyn Munro). But making a parent the villain again this season would be kind of monotonous, so it's possible that the Gargoyle King is someone unrelated to the characters, yet still tied to them somehow.
There have been plenty of mean characters on Riverdale, but some fans think Warden Norton may be the cruelest character to date. Reddit user, dylanohrien, wrote that the warden was the "most despicable character yet", adding that his actions toward Archie were unsettling and worrying. Another Redditor, MDG109 wrote that while the Warden isn't the most heinous character on the show, he lacked any redeemable qualities, and called him a "a sick, unpleasant, horrible little man." Reddit user, InternetIntroverts, pointed out that Warden Norton "uses his power to belittle and ridicule the people in his Juvenile Detention," which is a similar quality to the Gargoyle King.
In Riverdale, anything is possible, and some fans are wondering if Archie's juvie storyline will overlap with the Gryphons & Gargoyles storyline his friends are dealing with at Riverdale High. Reddit user LthePerry02 theorized that it's possible that the Warden knows something about the game, and may even be playing it with the inmates. "Mad Dog is revealed to have actually died the same way Dilton did, having played the game before. Archie is then informed of the game's impact in Riverdale, and realizes that the guards/warden know something fishy," theorized the Redditor. "[Or] The Warden, Captain etc. are revealed to be using the game to determine which prisoners will be killed, tortured, transferred — This leads to Archie finding out, and later leads to his escape from L&L, presumably taking several other inmates with him." Reddit user MDG109 added that would be interesting to see the two storylines interconnect, which would probably only happen if an inmate is murdered by the Gargoyle King.
But with all the suspects looming around Riverdale, it's going to be hard to pin down the Gargoyle King's identity this early in the season. There's still the question of Edgar Evernever and his motives with the Farm, Clifford Blossom's mysterious twin Claudius, and Ethel's creepy puppeteering gestures and odd behavior this season. Anyone of these characters could be the Gargoyle King, so fans will just have to sit tight and watch through the rest of season to find out.
Riverdale airs new episodes on Wednesdays at 8 p.m. ET on The CW.