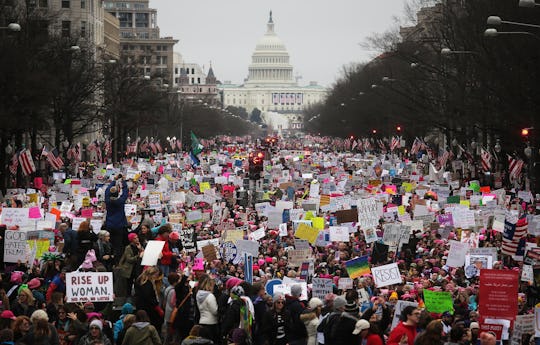 Mario Tama/Getty Images News/Getty Images
Here's What You Need To Know About This Year's Women's March
In unprecedented numbers, people of all gender identities, ages, races, sexualities and socio-economic backgrounds gathered in solidarity in what transcended into an international rebuke of the presidential inauguration on Saturday, Jan. 21, 2017 — a day that will go down in history. But is the Women's March annual? Last year millions marched in more than 670 planned events around the world, though the Women's March on Washington had initially only sought a permit for gathering 200,000 in the capital, according to Reuters. And, according to CBS, the Women's March organizers are expecting quite the turnout again for what most certainly will be the second annual event happening this month.
Last year's march wasn't another "Dump Trump," "Not My President" protest that had supporters refuting, "Yes, he is your president." Rather, it was a powerful display of solidarity, propelled by vows to ensure that women's rights are recognized as human rights today, tomorrow, and every day thereafter. It was so powerful, in fact, that the Washington Metropolitan Transit Authority recorded about 275,000 trips as of 11 a.m. on the morning of the march, compared to just 193,000 ahead of Trump's inauguration, according to The Guardian.
In Trump's home, New York City, an historic crowd of an estimated 400,000 took to the streets, USA Today reported. In fact, from Tel Aviv, to Berlin, to Nairobi, and even to Yellowknife in Canada's Northwest Territories, where temperatures dropped to well below zero, protesters rallied to prove that love trumps hate.
And now, Women's March organizers are expecting another impressive turnout, especially following Oprah's Golden Globes speech, according to CBS.
"Oprah's so eloquent, she could say anything, and make it sound like we should all just go do it," said Ann Scholhamer, according to CBS. Scholhamer, who helped organize last year's march and is doing so again this year, said she absolutely believes that Oprah's speech, which came less than two weeks before the second annual Women's March, will propel the movement forward and "bring women out."
This year, there are already more than 200 Women's March events planned around the world for Saturday, Jan. 20, as well as a few additional events on Sunday, Jan. 21, according to the "Power to the Polls" website. The Women's March Alliance offers a full list of these events, from both major and small cities across the United States and all over the globe, on its Facebook page. There are protests planned as far away as New Zealand and Vancouver, Canada, according to The Cut.
On Jan. 21, the Women's March organizers are also calling on thousands of women, femmes, and allies to come together in Las Vegas, Nevada to celebrate the event's one-year anniversary and to launch its collective 2018 Women's March agenda, #PowerToThePolls, according to the website. The event will be held from 10 a.m. to 4 p.m. Pacific Standard Time that day. They chose Nevada because the swing-state has recent experience with some of the most pressing issues facing women today, including gun violence and politicians accused of sexual assault. It has the power to shape the Senate in 2018.
This anniversary event will kick-off a national voter registration and mobilization tour that'll be targeting swing states in an effort to register new voters, engage impacted communities, advocate for policies and candidates that reflect the values of those who support the Women's March, and collaborate with partners of the Women's March to elect more women and progressives candidates to office, according to the "Power to the Polls" website. Atop the tour, Women's March Chapters are organizing state-specific anniversary events such as marches, legislative actions, community gatherings and voter registration drives.
Until then, you can start channeling your inner nasty woman by getting creative and making signs (last year's set a really high bar).
Check out Romper's new video series, Romper's Doula Diaries:
Watch full episodes of Romper's Doula Diaries on Facebook Watch.