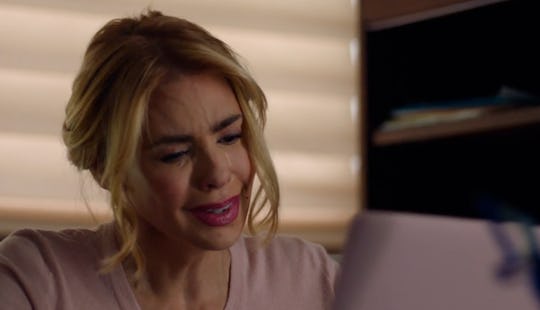 Lifetime
Lifetime's 'The Wrong Son' Is Your Sunday Night Movie Guilty Pleasure
Lifetime movies are known for being a little out there, but sometimes they're based on actual events which can be hard to wrap your head around. So is The Wrong Son based on a true story? Because the summer flick seems actually plausible. Well, kind of.
The Wrong Son is about a boy named Matt who returns to his mom, Sarah, 13 years after disappearing and being presumed drowned. But then, Sarah's older son is injured in a car accident almost exactly like the one that killed his father recently. Sarah then starts to suspect Matt, wondering if he's really her missing son or some person trying to hurt her family. Wild, right?
After some internet sleuthing, it's pretty clear that The Wrong Son is not based on a true story, which is a relief, to be honest. Because that's a lot of trauma for one woman to endure. But seriously, it doesn't mean it's not a perfectly captivating story for a weekend binge. The best thing to remember about Lifetime is that if it's based on a true story, it will often taut that fact before the credits roll. Because what's better than a movie based on a true story? Alas, The Wrong Son is not one of them.
Like a lot crime and dramatic shows, Lifetime has always used headlines and real-life stories as inspiration for its programming, but people tend to respond more to the ones that are based on real events, according to ABC News. In 2010, Lifetime Network's then senior vice president of original movies, Tanya Lopez, told ABC that the "based on a true story" thing really clicked with viewers. She said at the time:
I think that real-life events make great movies in general. You can look at the [theatrical] movies that did well this season. Take the 'Blind Side' as an example. Audiences love movies based on real-life events and women love them too, and they have since the inception of the TV movie.
That was in 2010, way before anyone had even heard of Netflix and chill, but if you look at the trend of the true crime docu-series and podcasts, you can obviously see that she really knew what she was talking about. If you're addicted to Lifetime movies and programming, you can thank (er, blame?) her. Lopez, who now serves as executive vice president for original movies, limited series & original movie acquisitions, said in the same interview:
I think people are drawn to these movies because they are drawn to the idea that they can watch the train wreck of somebody else's life, or because they are going to be inspired by somebody else's story and then say I can take that into my life and inspire myself.
Or because we simply can't turn our heads away from the rollercoaster ride of every true — or totally made up — crime and family drama. If you are a Lifetime junkie, you likely recognize the woman playing Sarah in The Wrong Son, Olivia d'Abo. She's been in a lot of really great shows, such as The Wonder Years and playing alongside Vincent D'Onofrio in Law & Order: Criminal Intent. But she was also in a couple of Lifetime movies, such as Presumed Dead In Paradise, which is just as intense as The Wrong Son, but equally fictional.
So don't feel guilty if you find yourself on the couch all summer watching this and other Lifetime movies, true or not. They all have really great casts, ridiculously campy writing, and were basically crafted to make you not want to leave your air conditioned house all day. Enjoy it. And be happy that nothing like The Wrong Son ever happened in real life.