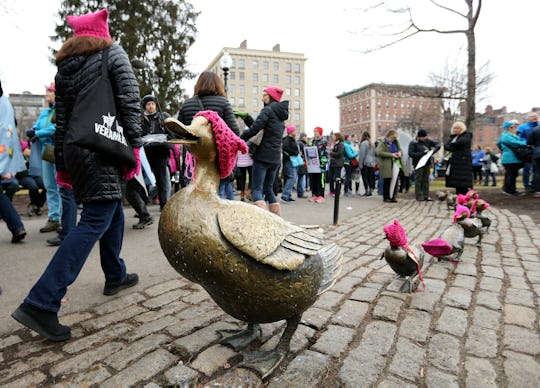 Maddie Meyer/Getty Images News/Getty Images
Boston, Get Your 2018 Women's March Gear Ready
Almost a year ago, the first annual Women's March took place, and millions of people came together to support the cause. There were over 600 marches all around the world, and the main event took place in Washington D.C. This year, the organizers of the Women's March are holding a different sort of event in Las Vegas to commemorate the one-year anniversary of the March, but there are also other "sister marches" taking place in several locations. One city that will definitely be holding a 2018 Women's March is Boston, though it may not be anywhere near the scale of the event that took place there last January.
In 2017, the first Women's March took place as "a massive protest uniting people of all ages, races, and religions," according to USA Today. It was also seen as a sort of "counterinauguration" after President Donald Trump took office the day before, The New York Times reported. Participants came in a show of support for issues like women's rights, reproductive rights, LGBT rights, and more.
The first anniversary of that event is Jan. 21, but several of the marches taking place this year will occur on Jan. 20 instead. And Boston is no exception. The Massachusetts city will hold a Women's March that Saturday, "to show that Women's Rights are Human Rights and Human Rights are Women's Rights," according to the Facebook page for the Boston Women's March event.
In Boston, The Cambridge/Boston Women's March 2018: The People Persist event is set to take place from 1 p.m. to 3 p.m., at the Cambridge Common Historic District, according to the event's Facebook. And there's apparently a huge list of groups co-hosting the event, so there should be a good number of people in attendance. Some of the groups include:
Boston Persists—Events for the Resistance
Cambridge Area Stronger Together
Cambridge-Somerville for Change
Harvard-Epworth United Methodist Church
Human Rights Festival
Indivisible Mystic Valley
Indivisible Somerville
March Forward Massachusetts
Along with many more. Plus, organizations such as the American Civil Liberties Union of Massachusetts, MassADAPT, PowerMASS, and Watertown Citizens for Peace, Justice, and the Environment are endorsing the event — some definite heavy-hitters when it comes to mobilizing crowds for activist causes.
The event is also included on the official Women's March anniversary event map. There are a few other 2018 Women's March events nearby as well, in case Boston is just a little too far or you'd rather hang with a slightly smaller crowd. There's an event in Topsfield, one in Charlton, and a New Bedford event too.
However the big, official event put on by the organizers of the Women's March isn't taking place in Boston. It's not taking place in D.C. or New York City either, where two of the biggest Women's March events occurred in 2017.
This year, the people behind the Women's March organized a #PowerToThePolls event as the "official" anniversary event, and it takes place in Las Vegas. The event will "launch a national voter registration tour one year after the historic Women's March on Washington," according to the Women's March website.
Linda Sarsour, a co-chair of the Women's March, said of the official event in Las Vegas:
In Alabama, Black women delivered as they always do. In addition to being willing to follow and support Black women, we all must commit to fighting the systemic voter suppression laws that inhibit so many of our communities from voting. This campaign will mobilize a new group of activists to create accessible power to our voting polls.
So instead of a one-day event, the Las Vegas #PowerToThePolls gathering will serve as the catalyst for an extended campaign to get more people to exercise their right to vote.
But the Women's March organizers are clearly very much in favor of these sister marches happening the same weekend as their official event in Nevada. They've been tweeting or retweeting some information about other events on the official Women's March Twitter account, and have a whole section of their website dedicated to "Anniversary Events," listing marches like the one that will take place in Boston.
So if you are interested in checking out the 2018 Women's March in Boston, take a look at the event's Facebook page or the Women's March website for more information. It's sure to be an inspiring event for anyone who can attend.
Check out Romper's new video series, Romper's Doula Diaries:
Watch full episodes of Romper's Doula Diaries on Facebook Watch.