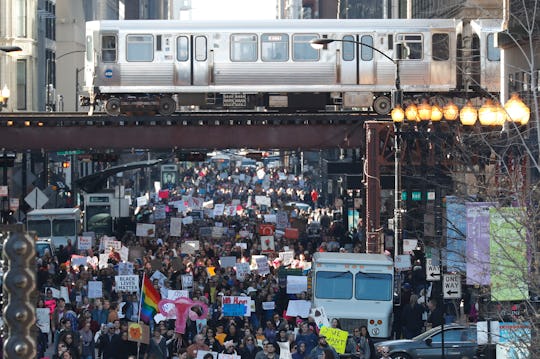 John Gress/Getty Images News/Getty Images
Here's What You Need To Know About The 2018 Women's March In Chicago
So much has changed since this time last year, but a lot of things feel the same. Especially when it comes to fighting for women's rights and resisting the Trump administration. If you're in the Windy City next weekend, you'll be happy to know that there's a 2018 Women's March in Chicago that you can join, along with sister marches in other major cities, including around Illinois in Springfield and Carbondale.
According to the Chicago organizers, the march festivities begin on Saturday, Jan. 20 at Congress Drive and Columbus Parkway near Grant Park at 9 a.m. local time. A rally is planned for 11 a.m. and then the march set to begin at 12:30 p.m. The event's website says that the march route will be "west to Michigan, north on Michigan to Jackson, west on Jackson to Clark, then Clark Street to Federal Plaza" where the march will end. Organizers are asking that once you hit Federal Plaza, to head towards transit and other meet up points to make sure that a bottleneck doesn't occur along the route.
The Chicago Temple at Washington and Clark will be open as a "warming station" before the event where people can get warm, rest, let kids loose, or nurse, according to the official website. Organizers suggest bringing food and water with you, as there won't be vendors along the route.
According to Morningstar, the list of speakers includes Suzette Wright, a former Ford worker whose experience of sexual harassment was published in The New York Times recently. (Following the number of allegations of sexual harassment at Ford plants in Chicago, including Wright's, published in The New York Times, Ford apologized to its employees in an open letter on Dec. 21.) Other notable figures include Tom Steyer, an activist committed to spending $30 million to boost voter turnout in this year's midterm elections, among many others. Chicago actor, writer, and producer Fawzia Mirza will emcee the event, which also includes performances by Second City, the cast of Hamilton, and the Bryant Jones Choir.
Liz Radford, one of the Women's March Chicago organizers told Morningstar:
Our speakers reflect the focus of this year's march – turning energy into votes. These are women and allies working within and challenging the political system to be inclusive, supportive of all women and people of color, and to more directly reflect the demands of the people. There is a lot of work to do and our speakers are on the frontlines.
Fellow organizer Carrie Kiley said in a statement to PR Newswire, "Now is the time to make our voices heard with our votes." She added, "We need to elect lawmakers who will fight for women's rights and support women's place in power. In our own communities and across the country, we will show up for one another by demanding better laws and a woman-centered agenda that lifts up all women and their families."
There are already 100 groups registered to march together in Chicago, and the organizers ask that you register or join the Facebook group so that they have an idea of how many people to expect. The event is free and you don't have to RSVP — it's more about giving law enforcement and the organizers an idea of what to expect so that they can keep the march safe and fun.
Last year's march was held on Jan. 21, the day after President Donald Trump's inauguration, and drew about 250,000 people, which was way more than the expected 22,000, according to the Chicago Tribune. Last year, marchers filled Grant Park to capacity and closed down parts of the Loop, making parts of the march route impossible to pass through. Organizers called for people to hold off, but they came anyway, making it the second largest march in the country last year. This is precisely why organizers want to get a better estimate this year and recommend to keep things moving.
It was definitely inspiring to watch everyone come out in Chicago last year, and this year will likely be no different.
Check out Romper's new video series, Romper's Doula Diaries:
Watch full episodes of Romper's Doula Diaries on Facebook Watch.