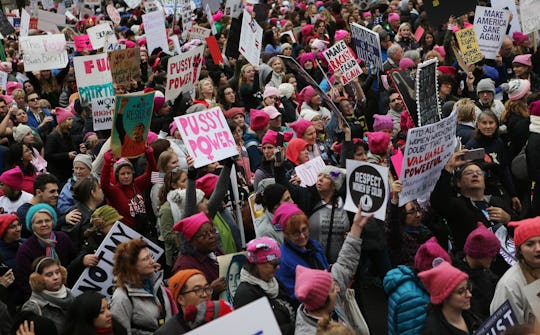 Mario Tama/Getty Images News/Getty Images
Here's What You Need To Know About The 2018 Women's Marches Happening In New Jersey
Last year, thousands of people took to the streets to stand up for women's rights and equality for all. It's been almost a year since the first Women's March on Washington and it's happening again this weekend, with marches planned across the United States. And those located in the Garden State will be pleased to hear that there are 2018 Women's March happening all over New Jersey.
Although the main Women's March of 2018 will take place in Las Vegas, Nevada on Jan. 21, there are set to be hundreds of sister marches and events taking place around the United States — many of which will happen in New Jersey. According to NJ.com, this year's main Women's March in the state will take place in Morristown on Jan. 20. But that isn't the only event for those in New Jersey to attend. The website MyCentralJersey.com reports that there will also be events in Monroe and Westfield, and the Women's March website also notes 2018 marches and events in the state in other cities and towns.
Really, it looks like no matter where you live in New Jersey, you should be able to attend some sort of event related to the Women's March organization. Here's where all of those events will take place:
The Most-Advertised Women's March Will Take Place In Morristown
The Women's March on New Jersey's Instagram page advertises for the event in Morristown, and so does NJ.com. According to NJ.com, the event will be pretty jam-packed:
The Jan. 20 march will begin at 11 a.m. at Morristown Town Hall on South Street, then continue to Morristown Green, where a series of speakers will address the crowd, organizers said. The event is expected to last three hours.
Certainly, the event in Morristown seems to be the most involved of the New Jersey marches, but it definitely isn't the only one. Additionally, the Morristown march also has its own website and volunteer site, which can be found here.
Monroe Is Also Having An Event For The Women's March Anniversary
As the website, MyCentralJersey.com reported, Indivisible of Monroe Township will" host its 'sister rally' Saturday from 11 a.m. to 1 p.m." They plan to meet by the Concordia Stop & Shop Plaza, at Perrineville and Prospect Plains Roads. The chapter's founder told the site that the public is invited and "bring homemade, hand-held signs."
However, the Women's March website doesn't list the Monroe Township event in its collection of anniversary events. Nevertheless, the Monroe event's coordinator, Linet, told MyCentralJersey.com that the event came to be because a lot of people couldn't make it to the main event in Morristown.
Ocean City, South Jersey Will Also Have Its Own Rally
Another event listed on the Women's March anniversary events is set to take place in Ocean City, South Jersey. And according to the event's website, this rally will be pretty epic, as well:
While the official Women's March anniversary event will take place in Nevada, South Jersey Action is organizing an anniversary Rally, featuring Tanzie Youngblood as the keynote speaker. Youngblood is a Democrat running for Congress representing the 2nd District.
The South Jersey rally will take place on Jan. 20, and you can RSVP here.
Leonia Is Holding An Event, Too
The Leonia event will take place on Jan. 20, starting at 9:30 a.m. at Leonia Middle School, and it's also listed on the official Women's March website. You can register for it here, too.
Westfield Is Also Hosting A March
Another event that MyCentralJersey.com reported on was one in Westfield, New Jersey. The Westfield Women's March, according to the site, will run from 9 a.M. to 11 a.m. on Saturday, Jan. 20 (the march begins at 9:30 a.m.), "featuring a march of just under one mile from the south side of the Westfield train station to Mindowaskin Park." Again, this march isn't listed on the Women's March official website, but it is happening, to help those who can't attend a larger march.
If you live in New Jersey and can't make it to New York City or the event in Morristown to show your support for the Women's March movement, you have plenty of options.
Check out Romper's new video series, Romper's Doula Diaries:
Watch full episodes of Romper's Doula Diaries on Facebook Watch.