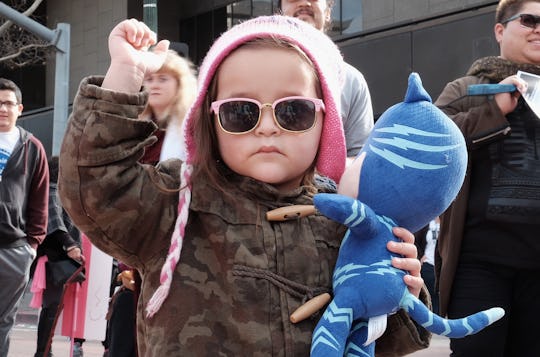 Sarah Morris/Getty Images News/Getty Images
Here Are The Deets On The 2018 Women's March In New York
Almost a year ago, the first annual Women's March kicked off, bringing millions worldwide to the streets to advocate for women's rights, immigration reform, healthcare reform, reproductive rights, LGBTQ rights, racial equality, and much more. It took place on Jan. 21, 2017, with many of the rallies aimed at President Donald Trump, who had just been inaugurated the previous day. With the one-year anniversary of the event fast approaching, many are curious about what will happen to both commemorate the event and to signify a continued fight for the same rights the first march advocated for. The organizers of the Women's March actually chose Las Vegas as the location to commemorate the anniversary of the March, but will there be a 2018 Women's March in New York as well? There's apparently at least a march in Manhattan planned, but other events are scheduled too.
More than 400,000 people marched through midtown Manhattan in 2017 as part of the first Women's March, according to The New York Daily News. The crowds probably won't be quite as big in the city this time around, but there's still likely to be a significant number of supporters participating in the event in New York City this year.
The New York City Women's March this year will take place from 11 a.m. to 3 p.m. on Jan. 20, and the starting entrance point is at 72nd Street and Central Park West on the Upper West Side, according to The Cut. The event is broken up into two parts — a rally starting at 11:30 a.m. at Central Park West between 61st and 62nd Streets, and then the actual march starting at 12:30 p.m. that afternoon.
Katherine Siemionko, the head organizer of last year's New York City Women's March, told Quartz in November that momentum for and interest in the event has been building for awhile:
It's kind of scary how it mirrors last year...I'm getting calls from friends in Florida, people want to know if marches are happening in their cities and if not, they're offering to plan one.
There aren't as many marches happening as the staggering number that took place in 2016, but big cities like New York City are definitely holding events for the one-year anniversary of the March.
The national organizers of the Women's March might not be in New York City this year, however. They also probably won't be in Washington D.C., where the first planned Women's March protest took place in 2017.
Instead, the organizers will launch their #PowerToThePolls event in Las Vegas, Nevada on Jan. 21. Women's March: Power to the Polls is an event that will kick off "a national voter registration tour one year after the historic Women's March on Washington," according to the Power to the Polls official website.
The Power to the Polls event isn't a one-day march, the way many of the events scheduled for the day before are. It will instead be an ongoing campaign, according to the official website, which read:
The national voter registration tour will target swing states to register new voters, engage impacted communities, harness our collective energy to advocate for policies and candidates that reflect our values, and collaborate with our partners to elect more women and progressives candidates to office.
But that doesn't mean the organizers aren't strongly in support of other Women's March events around the country, including the one in New York City.
It's very likely that a large crowd will show up at the 2018 event in the city. Groups from every corner of the Big Apple will be in attendance at the New York City Women's March — for example, Move Forward Staten Island, Staten Island Women Who March, and the Pride Center of Staten Island will bring attendees from that borough, according to Staten Island Live.
And if you're not able to make it to New York City, but you live in another part of the state, there are other New York events taking place that weekend as well. Buffalo, Seneca Falls, Syracuse, Watertown, Albany, and several other locations in New York will hold Women's March events, according to the Women's March anniversary event map.
There are currently more than 200 Women's March events planned around the world on Saturday, Jan. 20, and some are scheduled for the following day as well, according to The Cut. But if you can make it to the New York City rally, it's sure to be an inspiring occasion.
Check out Romper's new video series, Romper's Doula Diaries:
Watch full episodes of Romper's Doula Diaries on Facebook Watch.