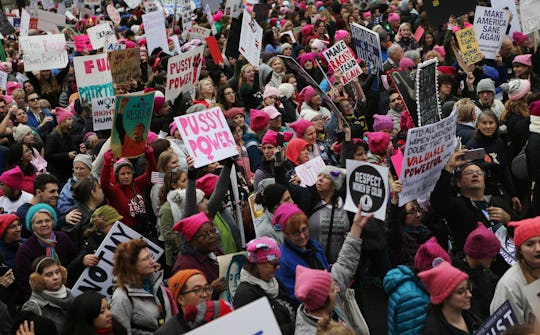 Mario Tama/Getty Images News/Getty Images
Here's Everything You Need To Know About The 2018 Women's March In Phoenix
The original Women's March on Washington, held on Jan. 21, 2017, inspired a ripple of sister marches across the United States, as well as a number of marches around the world. One year later, many locations are holding anniversary marches and keeping up the good fight. The Phoenix, Arizona 2018 Women's March is just one of many sister marches that will continue to fight against inequality, marginalization, discrimination, and stand up for women's rights.
The 2018 Phoenix Women's March will be held on Sunday, Jan. 21, 2018, from 10:00 a.m. to 2:00 p.m. MST. Leading up to the 10:00 a.m. march, Taiko Drummers will play beginning at 9:30 a.m., according to the event's website. The two-mile-long loop march will begin and end at the Arizona State Capitol, with marchers meeting at the Capitol's Senate Lawn. At this time, the official march website states that the planned march route is not being released "due to safety."
This march will include a "diverse group of speakers who will address the legislation and causes that are critical to women in 2018." Planned speakers for this sister march include Balz School Board Member Channel Powe, State Rep. Athena Salman, State Rep. Wenona Benally, Community Educator and Activist Julie Meyers, Mi Familia Vota and DREAMER Jessica Rubio, Jodi Liggett of Planned Parenthood, Laila Ikram of CAIR AZ.
Along with speakers, the march will also include food trucks, music, art, candidate tabling and "a number of progressive organizations, candidates, and change-makers who will offer opportunities to the public for small ways to make a big change," according to the event's website. Like last year, this year's march is planned to be peaceful, with planning groups focused on ensuring the safety of all marches. It is intended to be a family friendly event, with children welcome to attend. Additionally, every aspect of the march is expected to be wheelchair and stroller accessible.
This year's set of marches focus around the Power to the Polls initiative, which aims to increase voter registration in swing states and engage impacted communities. The main event in Las Vegas, Nevada will launch a national voter registration tour intended to "channel the energy and activism of the Women's March into tangible strategies and concrete wins in 2018." To that end, the march in Phoenix will include a voter registration table to encourage Phoenix residents to vote in the upcoming election.
The state of Arizona had a large turn out for last year's set of sister marches. AZ Central reported that at least 36,000 people attended the marches in downtown Phoenix, Tucson and Flagstaff to march and show their solidarity with the Women's March on Washington. Officials stated that 20,000 people participated in the march in Phoenix, 15,000 in Tucson and 1,200 in Flagstaff. There were no reports of violence or arrest, according to AZ Central. The Arizona Women's March website outlined the state chapters' goals for the march, stating:
We march in solidarity with our sisters in Washington D.C. and stand together in solidarity with our partners and children for the protection of our rights, our safety, our health, and our families — recognizing that our vibrant and diverse communities are the strength of our country.
The Women's March movement is one of inclusion, meaning that not only women can participate. The numerous marches across the globe and large scale success are just a testament to the momentum that has been building over the last year. If you can't make it to Phoenix or any of the other larger cities to attend a major march, chances are one is happening in a city near you. In fact, 673 sister marches are currently planned in cities around the world, with a projected 4,956,422 marchers expected to attend, according to the Women's March website. Every event, large or small, makes a difference.
Check out Romper's new video series, Romper's Doula Diaries:
Watch full episodes of Romper's Doula Diaries on Facebook Watch.