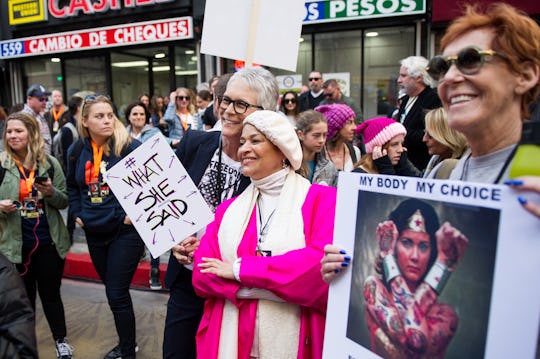 Emma McIntyre/Getty Images Entertainment/Getty Images
Here's What You Need To Know About The 2018 Sacramento Women's March
Participating in the Women's March on Washington, D.C. last year just wasn't feasible for many people, considering the time and expense associated with travel, but hundreds of sister marches allowed protesters in far-flung locations worldwide to stand in solidarity. This year's anniversary event is taking place in Las Vegas, but again, that's not an option for everyone, so left-coasters a few hundred miles west of the event might be wondering, is there a 2018 Women's March in Sacramento? Last year's demonstration in California's capital drew approximately 20,000 participants, according to the Sacramento Bee, and judging by the number of Facebook users who have indicated their interest in the event, this year's march will be just as big.
The Women's March Sacramento's mission, from the official website, is to "harness the political power of diverse women and their communities to create transformative social change" through "activism on a diverse range of issues specific to California's legislative center, Sacramento and surrounding communities." Participants will gather at Southside Park on Saturday, Jan. 20 at 10:00 a.m. before marching to a rally point at the Capitol Building. Keynote speaker Adama Iwu, one of Time's People of the Year and creator of the We Said Enough Foundation, will appear along with co-founder Samantha Corbin and Director of Programs and Outreach, Alicia Lewis. The foundation was created to fight against workplace of harassment and assault.
The march's key issue is that of women's rights, specifically, addressing the "gender and racial inequities within the criminal justice system, in workplace violence, in domestic violence and in systemic violence against women," reproductive freedom, and LGBTQIA rights. But organizers have also set their sights on three additional goals. The march will also stand up for immigrant and refugee rights, voting rights, and youth engagement. City mayor Darrell Steinberg will also speak, as well as representatives for Women's Empowerment in Sacramento, Black Women Organized - Sacramento, California Dreamers, and Planned Parenthood, and several others.
In order to formulate an accurate estimate of the crowd size, those who plan to attend are asked to register for the Women's March Sacramento online, which is free, and not mandatory. Rally Bus is organizing transportation for out of town attendees. The group's website specifies that it's a nonpartisan effort, and its goal is to "express our support for women's rights and human rights in our communities and the country, rather than to criticize politicians or political parties," although a Venn diagram representing those values and a ~certain unnamed politician~ or that person's party would frankly look a lot like two circles screaming at each other from across a long distance.
If you're thinking about attending, but you're not sure where to start, the group offers a few practical tips for first-time marchers, like wearing layers and comfortable shoes, packing water and snacks, and writing important information (such as allergies, emergency contacts, and a lawyer's name and phone number) on your arm with a permanent marker. It also advises marchers to bring ponchos rather than umbrellas, and not to carry "anything that can be construed as a weapon."
Speaking from my own experience, I'd add a few things to that list. Most importantly, stuff your pockets with tissues and wet wipes, because those awful portable toilets run out of supplies fast. If you're a water snob like me, pack one of these Brita bottles that filters that nasty drinking fountain swill as you sip. And finally bring some duct tape (a mostly-used roll, if possible, because that stuff's heavy), and you'll no doubt become a hero to at least three fellow marchers when their signs/bags/pants give out. Now you're ready to change the world!
Check out Romper's new video series, Romper's Doula Diaries:
Watch full episodes of Romper's Doula Diaries on Facebook Watch.