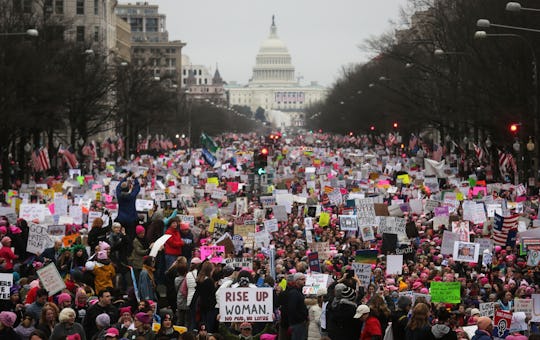 Mario Tama/Getty Images News/Getty Images
Here's What You Need To Know About The 2018 Women's March In Washington, D.C.
The Women's March in Washington, D.C., last year was a historical event and, this month, there are similar events being held across the globe. But, is there a Women's March happening again in Washington, D.C., in 2018? According to the Women's March on Washington 2018 Facebook event page, there is indeed an event set for Jan. 20, starting at 11 a.m. local time at the Lincoln Memorial Reflecting Pool. So, if you were hoping to participate this year, now is your chance. But, this year's event in D.C. is actually a "sister event" and it will have a different tone, focusing on voter registration.
The Women's March on Washington 2018: March To The Polls pays tribute to the Anniversary of the 2017 Women's March and its main event is being held on Jan. 21 in Las Vegas, Nevada. For those who cannot make it to Las Vegas, there are a ton of sister marches going on in different areas of the world, Washington included. So, in a nutshell, the purpose of the main event is less of a march and more of an effort to help people register to vote, though there are still marches being held. The Power to the Polls event is being thought of as more of a "rally" to bring attention to a national voter registration tour.
According to the 2018 March on Washington event, the meaning of the march is described as women and allies again hitting the streets of D.C. in order to make a "powerful statement" to the Trump administration, as well as the world, with a follow-up demonstration to last year's event. For those who would like to RSVP to the event, they can mark "going" via Facebook or registering on Eventbrite, which notes that "the unifying theme of the movement is: When we vote, we win. When we stay engaged, we win. When we support each other, we win!" The event is to show the importance of women participating in politics and having a voice, especially when it comes to voting.
When it comes to specifics, the rally for the march in D.C. will start at 11 a.m. ET and there will be several speakers before the actual march begins closer to 1 p.m. ET. Cardboard posters and signs are encouraged.
In addition to sister marches like the 2018 March on Washington event, there is another similar event titled "The Impeachment March" and that is being held on Jan. 27, 2018. This march is more along the lines of a protest against the Trump administration and in support of the #MeToo movement. That march will begin at 11 a.m. ET and it will run from Seward Square to the Lincoln Memorial, with a rally beginning at noon. According to The Rallyist, the official statements about the march's purpose read:
We will march for the equality of all people regardless of race, ethnicity, gender and gender identity, sexual orientation, national origin, religion, immigration status, and disability status. We will march to reject the hate-mongering of the Trump Administration and its allies which seeks to divide and turn us against each other. We will march for the more than a dozen women who have publicly shared their stories of sexual misconduct from the President, and in solidarity with all those who have been a part of the #metoo movement to end sexual harassment and assault.
Some of the hashtags that the event is promoting are #ResistTrump, #MarchOnDC, #WhyIMarch and #ImpeachTrump. According to the official website for the Impeachment March, this event has no legal relationship with other marches and sister rallies going on this month.
So, if you were hoping to participate in a Women's March event over in D.C. this year, the Women's March on Washington 2018: March To The Polls and The Impeachment March are both solid options.
Check out Romper's new video series, Romper's Doula Diaries:
Watch full episodes of Romper's Doula Diaries on Facebook Watch.