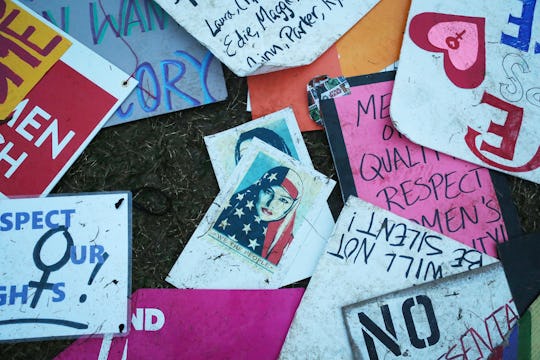 Mario Tama/Getty Images News/Getty Images
Here's What You Need To Know About The 2018 Women's March
2017 was an astounding year for women unleashing all their pent-up rage, starting with the record-breaking Women's March in January, all the way up to the #MeToo movement. But there's still so much work to do, and many are wondering, is there a 2018 Women's March? Well, dust off that old "pussy hat" and get out your snappiest signs, because there are multiple events coming up for the women and allies who aren't yet done marching to change the world.
Nothing in 2018 is set to top the sheer size of the 2017 marches, in which millions of people turned out all over the globe, with nearly 500,000 people estimated to have marched on Washington, D.C. But the big Women's March anniversary event set for 2018 so far still promises to be a powerful one. According to the official Women's March website, the march will take place in Las Vegas, Nevada on Jan. 21, and will aim to galvanize voters ahead of the 2018 midterm elections, via an initiative called Power To The Polls.
The march will kick off a nationwide voter registration tour. According to the Power To The Polls website:
The national voter registration tour will target swing states to register new voters, engage impacted communities, harness our collective energy to advocate for policies and candidates that reflect our values, and collaborate with our partners to elect more women and progressives candidates to office. The coordinated campaign will build upon Women's March's ongoing work uplifting the voices and campaigns of the nation's most marginalized communities to create transformative social and political change.
It's an amazing idea, and sounds like it's bound to be a rewarding experience that will actually (hopefully) produce some lasting change. But if you can't get out to Las Vegas, you've got other options. There are marches happening all over the world on Jan. 20 and 21. While a majority of the protest events are concentrated in the United States, there will be marches in plenty of other countries too, from China to New Zealand. Here's a search tool to find the march closest to you, or to sign up to host your own event if need be.
New York City, for example, will hold a 2018 Women's March on Saturday, Jan. 20 to demand equality for all, in a rebuke to an administration that has been steadily chipping away at people's rights. Already, 19,000 people have replied that they are going to the Facebook event, while another 75,000 marked themselves as interested. The entrance point is on 72nd Street and Central Park West. This march is being organized by the same people who organized the one in 2017, so they know what they're doing, and have a whole page of FAQs for eager demonstrators. The organizers encourage marchers to dress warmly, leave their big bags at home, and to bring "homemade posters that show who you are and express your sentiment," although signs should not be mounted on wooden poles, sticks, or handles for safety purposes.
A lot has changed in the year since women and their allies took to the streets and demanded that their voices be heard. Finally, some powerful men are being held accountable for their history of sexual assault and abuse. And yet a man who, with the help of his administration, has actively been working to take away rights from women and other marginalized groups still holds the highest office in the land.
Now is not the time to stop. Now is the time to keep standing up, to keep marching and shouting until those in power have no choice but to listen. Any of these anniversary marches are an excellent place to do just that.
Check out Romper's new video series, Romper's Doula Diaries:
Watch full episodes of Romper's Doula Diaries on Facebook Watch.