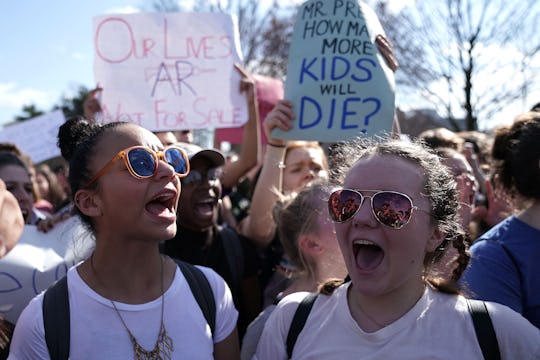 Alex Wong/Getty Images News/Getty Images
Everything You Need To Know About The March For Our Lives Demonstration In Atlanta
In the wake of the Feb. 14 mass shooting at the Marjory Stoneman Douglas High School in Parkland, Florida, the brave survivors came together to push for legislative change around gun safety laws. One way they're already making a difference? On March 24, students and allies around the country will be participating in the March For Our Lives demonstration, both at the main march in Washington, D.C., as well as in sister marches in other cities. And if you're wondering whether there is a March For Our Lives in Atlanta, you're in luck. While it's still early, students in Georgia are working hard to ensure that the Atlanta march will make a big impact, and they've already got financial backing.
Thousands of students have indicated their intention to participate in the Atlanta march so far, according to The Atlanta Journal-Constitution, and so far, it looks like organizers are off to a great start. On Feb. 24, the Georgia Alliance for Social Justice (an affiliate of the Women's March) announced it would be acting as a "fiscal sponsor for March for Our Lives Atlanta," and on Monday, the group opened an online store to sell March For Our Lives Atlanta fundraising merchandise. The students behind March For Our Lives Atlanta have also been working extremely hard to get the word out, and organized their first press conference Sunday at Emory University.
More than two dozen students gathered at the press conference to officially announce the Atlanta sister march, according to Fox 5 News, and when asked about the decision to organize the march, student Jonah Ruffin told reporters, "I kind of question my safety at school. I was like, this could have been me. This could have been anybody at any type of school." Elias Green, a student from Gwinnett County, agreed and emphasized the message that so many have already expressed in response to the shooting, which is that it is far past time to finally do something about the problem of gun violence. According to Fox News 5, Green said:
Everybody should support common-sense gun legislation. Legislators around the country and in the State of Georgia have commonly ignored this issue, so, the youth are coming forward and addressing it and saying that this is a problem that is going on around the country and in our schools.
So far, the Atlanta march is set to take place at 1 p.m. local time at the Georgia State Capitol, and already, more than 24,000 people have signed up to participate, according to the event's Facebook page. But it's also clear that there is still so much more left to do in the coming weeks. For one, March For Our Lives organizers are currently looking for volunteer student ambassadors who can acts as liaisons between march organizers and local schools, as well as people to serve as "peace marshals" during the Atlanta march (though the role does require that volunteers are at least 18 years old, and are able to complete a training session ahead of time).
The Atlanta march isn't the only way that students in the city plan to make a difference though. Walk-outs and protests have already been planned by students at more than two dozen Atlanta-area schools on March 14 as another way to push for gun safety laws in the state, according to The Atlanta Journal-Constitution, and on Feb. 24, Emory University made it clear that participating in the demonstrations wouldn't affect admissions decisions of any current or future applicants. Associate Vice Provost for Enrollment and Dean of Admission John Latting told The Emory Wheel:
We respect the action of students who engage in peaceful protest, particularly on an issue like gun violence. Emory will not rescind the offer of admission to students because they engage in peaceful protest, nor will such protest action negatively affect future admission decision making for students involved.
As heartbreaking as it is that the March For Our Lives movement even has to exist in the first place, seeing teens coming together in cities around the country to push back against gun violence and after far too many years of legislative inaction is awe-inspiring. And the dedication of these students — who in many cases aren't even old enough to vote — is also an incredibly valuable and hopeful reminder that, although things might be bad right now, they don't actually have to stay that way.