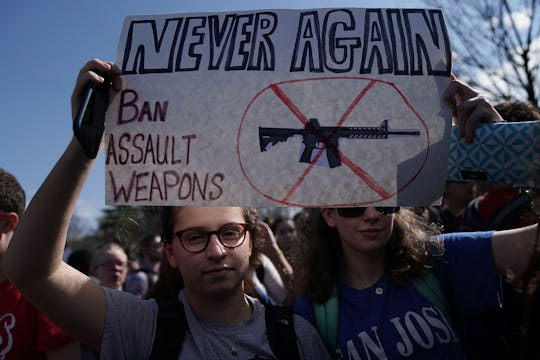 Alex Wong/Getty Images News/Getty Images
Here's Everything You Need To Know About The March For Our Lives Demonstration In Boston
After a deadly shooting broke out at a Florida high school just one week ago, people are finally proclaiming that enough is enough. Gun violence and school shootings should not be a common occurrence, yet, statistics show the worst. But a brave group of teenagers who survived the Marjory Stoneman Douglas High School in Parkland, Florida are leading the conversation about gun violence with a nationwide march planned for next month. The central march is planned to meet in the nation's capital, but will there be a March For Our Lives in Boston, too?
There is good news — you won't have to travel all the way to Washington D.C. to have your voice be heard along with the survivors of the school shooting. Instead, you will be able to march alongside your friends, family members, neighbors, coworkers and stranger in the city of Boston, Massachusetts.
This is because there will be a March For Our Lives in Boston held on March 24 at Boston Common from 12 p.m. to 5 p.m., according to Facebook, and people seem to be pretty enthusiastic about it. According to the Facebook event, over 33,000 people are interested in attending the march in Boston and over 6,000 people have RSVP'd saying that they will be attending the march that's over a month away. Needless to say, it will be huge.
The organizers for the event are currently selling T-shirts to support all the costs that go into putting on an event of this size. These are the official shirts that will help directly fund the march, according a Facebook post by one of the organizers. And the organizers will need as much money as possible — especially since, according to MassLive, it is not yet clear whether a formal permit has been requested for the event that is a little more than a month away — and marches with thousands of people in attendance aren't necessarily the cheapest to put on. So far, the organizers have raised over $7,000 in T-shirt sales alone. This is awesome and shows that people not only care about supporting the march efforts but plan on really coming out and attending the march, too.
But because the march is still in the early planning stages, there is a lot of details that have yet to be released — like the events for the day, or if there will be any speakers attending the specific march in Boston. But there is still plenty of time for the organizers of the march to figure this out.
The March For Our Lives is gaining national attention for a huge reason — the message behind the march is something that a lot of people have been able to get behind. George and Amal Clooney, Oprah, and Steven Spielberg have all made big donations to the march efforts in Washington D.C., according to CNN, to help demand politicians for comprehensive gun reform.
One of the march's organizers, Stoneman Douglas high school junior and shooting survivor, Cameron Kasky, wrote in an op-ed for CNN that this march's purpose is to hold politicians accountable and make them act on the gun violence problem in America:
We can't ignore the issues of gun control that this tragedy raises. And so, I'm asking — no, demanding — we take action now. Why? Because at the end of the day, the students at my school felt one shared experience — our politicians abandoned us by failing to keep guns out of schools. But this time, my classmates and I are going to hold them to account. This time we are going to force them to spend more energy protecting human lives than unborn fetuses.
The marches planned all over the nation, including in Boston, are only meant to reiterate this message just a little bit louder — action needs to be taken to protect the lives of children, especially in schools where they should be safe. If this is a message that speaks to you, you can join any local march in your area or major city like Boston to show your support.