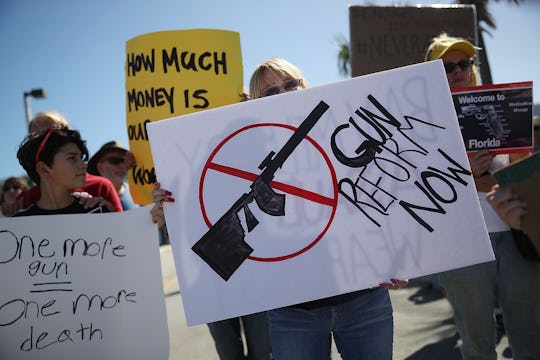 Joe Raedle/Getty Images News/Getty Images
Is There A March For Our Lives In Las Vegas? Here Are The Details
In the aftermath of the deadly mass shooting at Marjory Stoneman Douglas High School in Parkland, Florida, a group of survivors has risen up to speak out against gun violence and the lax legislation that allows it to continue in American schools. The survivors planned a protest in Washington, D.C., but as was the case with other recent demonstrations, simultaneously events will be held in other cities around the globe for those who can't make it to the capital. There is a March For Our Lives in Las Vegas, the site of another recent high-profile shooting, although details are scant at this point. But if you're able, you can help put it together.
The March For Our Lives official website listed nearly 200 sister marches as of Wednesday afternoon, and visitors are invited to create their own if they don't see a local march planned. The Las Vegas march is scheduled to take place on Saturday, March 24, at 10:00 a.m. local time (as are the other marches), but the exact location has yet to be determined. The local march has a fledgling website and an array of social media accounts, and those looking to get involved with the planning are invited to contact the organizers at marchforourliveslasvegas@gmail.com.
The tricky part about these marches — even trickier than others — is that they're being organized by kids who may not have all of the resources or experience that adults do. They still have to go to school (in fear) every day, and they're planning protests in between homework and soccer practice. A recent post on the Las Vegas march's Facebook page invited followers to attend a planning meeting earlier this week, but cautioned, "Adult support is welcome, however it will be just that, support. We ask respectfully that adults sit and listen quietly."
So why aren't the kids asking for help? Because up until now, adults haven't offered it. Children in school today were born after the 1999 Columbine High School massacre. They've never known a time when school shootings weren't commonplace. And adults have consistently failed to do anything to stop them. Writer Jody Allard wrote a CNN op-ed about her 17-year-old daughter's experience planning the Seattle march, including the frustration the girl had with an adult who kept trying to take over her meetings. "Adults have had decades to fix this," Allard told her. "Remind her that this movement belongs to teens."
And these teens don't appear to need much help, at least not in getting their point across. Last week, several Parkland survivors appeared on Face the Nation to explain their position, and the reason for the marches. "We are creating a badge of shame for any politicians who are accepting money from the NRA," 17-year-old Cameron Kasky told host Nancy Cordes. "It is a special interest group that has most certainly not our best interests in mind. And this cannot be the normal." Kasky isn't anti-gun; he even supports the right to carry concealed weapons. "But an AR-15 is not needed to protect your house from robbers," he told Cordes. "It's not needed to hunt bears. An AR-15 is a weapon of war."
If you'd like to support gun safety, but you're unable to attend a march, you can donate to March For Our Lives. If you're looking for more boots-on-the-ground opportunities, the Women's March Youth EMPOWER initiative is organizing a nationwide school walkout on March 14. There are currently 10 schools signed up in the Las Vegas area. Another walkout is planned for April 20, the 19th anniversary of Columbine. The face behind the Columbine anniversary walkout is 15-year-old Lane Murdock of Connecticut, who told the BBC that when she heard about Parkland, "the most saddening thing was that it felt normal." And if you're not able to do that, there's still one more very important task that teens can't accomplish: vote. Everytown for Gun Safety has a helpful tool that will tell you how much money your representatives have received from the NRA, as well as their phone numbers, in case you'd like to let them know how a registered voter feels about that.
Check out Romper's new video series, Romper's Doula Diaries:
Watch full episodes of Romper's Doula Diaries on Facebook Watch.