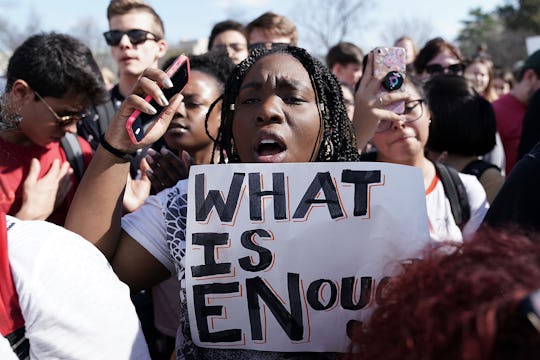 Alex Wong/Getty Images News/Getty Images
March For Our Lives Events Are Happening All Over New Jersey — Here's What You Need To Know
Following the tragic shooting at a high school in Parkland, Florida, students all over the nation have organized protests to push lawmakers to enforce safer gun legislation. The demonstrations, known as the March For Our Lives, are happening across the United States. The central march will take place in Washington, D.C., but those in the Garden State wondering whether there is a March For Our Lives in New Jersey are in luck. There are actually many happening across the state, so you'll have plenty of options to attend and have your voice heard, too.
Like most states, New Jersey will be hosting several March For Our Lives events all across the state, with more than one organized by teenagers. With the main March For Our Lives demonstration taking place in Washington, D.C. on March 24, cities across the nation are following suit with events planned for the same date. In fact, local marches are being organized in just about every major city in the country, so anyone who wants to protest gun violence and support these brave students has an opportunity to do so. Overall, the March For Our Lives has one main goal: to ensure that not one more school shooting ever happens again.
Currently, if you're in New Jersey, you have a number of options as sister marches have been planned in several cities, like Newark, Morristown, Red Bank, and more. Here's what you need to know.
Newark
Much like the main March For Our Lives in Washington, D.C., the Newark, New Jersey march will be led and organized by students. According to the march's official website:
March for Our Lives NJ is a student-centered, student-lead event. It is being planned by a committee students from diverse backgrounds who are coming together from schools across northern, central, and southern New Jersey.
The Newark march will start at 10 a.m. ET at Military Park in the city.
Morristown
Newark isn't the only city in New Jersey to be led by teenagers. High school sophomore, 16-year-old Bella Bhimani is spearheading the Morristown, New Jersey March For Our Lives, according to the Mendham Patch. Per the publication, Bhimani knew she could make a change at a local level. She told Patch:
After hearing about the march in DC, I thought that attending the march would be great but that we would have a much greater impact by holding more sister marches around the country. Since there was not one in our area, I decided to organize one in Morristown to give people (especially students) an opportunity to voice their opinions.
The Morristown March For Our Lives will take place Saturday, March 24, starting at 11 a.m. ET at Morristown Town Hall.
Asbury Park
According to the official March For Our Lives website, there will be an event in Asbury Park, New Jersey, although there aren't too many details about it just yet, other than it plans to kick off at 11 a.m. ET.
The event is registered on the website, though, and you can RSVP to march in Asbury Park here and stay tuned for further details.
Red Bank
As with Asbury Park, the Red Bank march isn't as buzzed about, but it's registered on the March For Our Lives website, so it's definitely happening. According to event details, the march will take place on Saturday, March 24 (as all the others) and begin at 10 a.m. ET at Riverside Gardens Park in Red Bank, New Jersey. You can RSVP to the march here.
Clearly, there's a lot happening in New Jersey in regards to the March For Our Lives. While all the events are sure to be empowering and historic, the mission of the March For Our Lives is the driving force behind it all. As stated in the official mission statement:
The mission and focus of March For Our Lives is to demand that a comprehensive and effective bill be immediately brought before Congress to address these gun issues. No special interest group, no political agenda is more critical than timely passage of legislation to effectively address the gun violence issues that are rampant in our country.
The March For Our Lives demonstrations will be a national event and with as much attention as it's getting now and how important it is for this message to reach lawmakers, it'll hopefully launch necessary change.