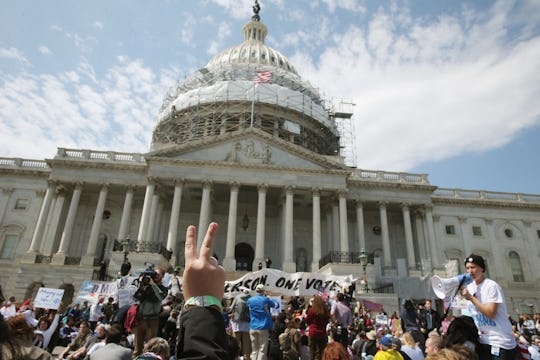 Mark Wilson/Getty Images News/Getty Images
Women's March On Washington: Kids Welcome
The day after Donald Trump is sworn into office, nearly 200,000 people are expected to come together to peacefully protest the incoming administration's stance on women's rights at the Women's March on Washington on Saturday, Jan. 21. Trump's victory was devastating for so many women across the country and the upcoming rally will provide those who are frustrated — and perhaps terrified — with an outlet to express themselves on the president-elect's first full day in the Oval Office. The event is inclusive and any person, regardless of gender or gender identity, who "believes women's rights are human rights" is welcome to attend, according to the organization. Some parents may be wondering though, with strong and impassioned messages broadcast and masses of people expected to participate, is there an age minimum for the Women's March?
Romper reached out to the organization for comment on any age requirement and is awaiting a response. It's safe to assume, however, that any person who is passionate about the rally's mission is welcome to attend; As long as parents feel comfortable allowing their children to accompany them, so they can explain any difficult concepts or moments, it's probably alright.
According to CNN, plenty of parents all over the nation have been planning for months to bring their daughters and sons along with them, some with children as young as 11 years old.
"They know what's at stake," Susan Kaplow, a mom of two in Brooklyn, New York and chief content officer with women's lifestyle company SheKnows Media, told CNN of the importance of bringing their daughters, 11 and 14 years old, to the event.
She continued, "Even as inconvenient and cold and potentially scary as it might be, we feel like they really need to see it and fight for it and to really know that they have to, that it's their job."
Another mother, Michele Sinisgalli-Yulo of Atlanta, also told CNN that she will be bringing her 11-year-old daughter Gabi to the march on Saturday, in the hopes that it will inspire her to tackle her own passions through activism.
"How many of those girls will go on to do things that will help women down the road?" Sinisgalli-Yulo, who is the founder and creator of the gender neutral clothing brand Princess Free Zone, also told CNN. "And I told Gabi, 'You could run for office someday. You should run for office someday. You have a unique voice.'"
Whether parents decide to bring along their kids is their own personal decision — an important one that should take into consideration any safety concerns as well as their own child's maturity and abilities. Either way, if you decide to leave the kids at home or have them join you, it will certainly be an empowering and historical day to remember, and one you'll want to talk about with your little ones later.