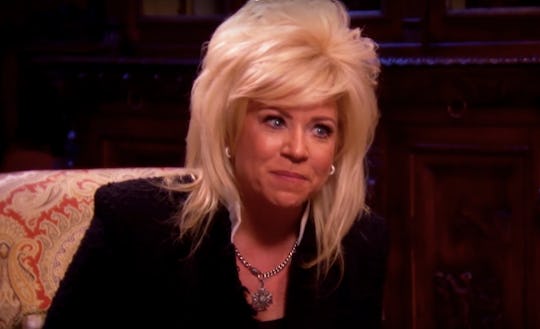 TLC
Theresa Caputo From 'Long Island Medium' Is Moving On After Splitting With Her Husband
Breaking up is never easy, especially when you've spent more than half of your life with someone. Just ask Theresa Caputo, who is moving on with her life after her separation from her husband of 28 years, Larry. So is Theresa Caputo from Long Island Medium dating anyone now? Though she seems to be doing pretty well and moving on with her life, it doesn't look like she's seeing anybody new just yet. I wouldn't worry though. The couple only announced their split a few months ago, so there's still time for Theresa to find a special someone.
In early December of 2017, the couple released a joint statement that explained why they had decided to breakup. For longtime fans of the show, it may not have been a complete surprise, since Theresa had confessed on the show that she and Larry were having marital problems. In one episode she actually broke down in tears in the middle of a reading, saying "I'm in the middle of a reading with Erin and my own emotions about my relationship with Larry got the best of me." She added, "This is a really hard time right now with Larry and I, and I don't know what's going to happen. It's just, it's wearing on me."
In the joint statement, the couple said:
After 28 years of marriage, we have decided to legally separate. We will always love each other and our two wonderful children. We are united in supporting each other and our family. Please respect our privacy during this time.
Theresa also sent out a tweet, writing:
I'm overwhelmed by the love and support for me and my family while we're going through this difficult time. One thing will never change and that is that we will always love and support each other, and be the best parents we can be to our children. Love you guys.
As usual, Theresa and her family have been so open about their personal lives on the show. In the first episode of the new season of Long Island Medium which aired on April 8, Theresa and Larry confronted each other about their breakup, offering something of a breakdown over what exactly went wrong in their relationship. "I feel that you just pulled back from me. Because of all that shutting down and pulling back and not saying anything is what caused me to shut down," Theresa said.
Though their separation is clearly heartbreaking, it does look like Theresa is moving on with her life and finding new sources of happiness. In an interview with Good Housekeeping, Theresa said about her ex, "We're in a good place. We've taken things day by day and, at the end of the day, we're okay." She also said that her fans have helped her immensely throughout the process. "We really feel truly blessed that we have such amazing fans and the support we've gotten is just amazing." Divorce is never easy, but having the support of others goes a long way to making it easier.
And looking at Theresa's Twitter and Instagram accounts, it looks like she's surrounding herself with friends and family including her two adult children, and the family friend Danny who just underwent kidney transplant surgery. It's a tough time, there's no doubt. But I also have no doubt that Theresa is strong enough to get through it better than ever. Regardless of whether or not you believe in her ability to communicate with the dead, you can definitely believe she knows how to build herself up and turn her life around.
Check out Romper's new video series, Romper's Doula Diaries:
Watch full episodes of Romper's Doula Diaries on Facebook Watch.