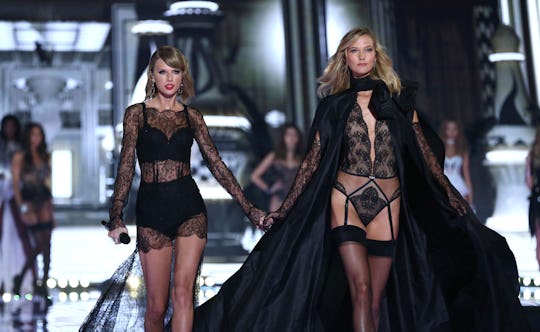 Tim P. Whitby/Getty Images Entertainment/Getty Images
Is "This Is Why We Can't Have Nice Things" About Karlie Kloss?
Taylor Swift is notorious for inserting her real life into her songs. It is what makes Swift's music so relatable and so addicting to listen to at the same time. The fun in listening to any of her songs is decoding the mystery as to who each song is about. Her newest album, Reputation, is no exception to this and is full of clues (and confusion) to get fans thinking about each song's muse— especially since Swift's private life is so public. So, it is no wonder that people are asking if "This Is Why We Can't Have Nice Things" is about Karlie Kloss, Swift's rumored-to-be former friend.
The thirteenth song off of Swift's newest album, which dropped on Friday at midnight, is about a friendship turned sour, according to Genius. The song's lyrics tell a story of throwing massive Great Gatsby-esque parties complete with a "champagne sea" with a good friend. But all good things must come to an end and the subject of the song, as the lyrics state, "rained" on Swift's parade. The lyrics in the song's chorus detail more about this lost friendship:
This is why we can't have nice things, darling
Because you had to break them
I had to take them away
This is why we can't have nice things, honey
Did you think I wouldn't hear all the things you said about me?
Swift, who is notorious for having a "squad" of besties, hasn't necessarily had all of her friendships in the public eye this last year after scaling down on public appearances herself. Because Swift has been so quiet about her friendships, and this song is about a broken friendship, a few Twitter users to speculate that the song could be about model BFF, Kloss.
People started speculating that Swift and Kloss were no longer as tight as they used to be when Swift debuted the music video for the first single off of Reputation, "Look What You Made Me Do". In the music video, Swift wears a t-shirt that lists the names of all of her friends in one of her many looks during the video. But two names of two of her very famous friends — Lorde and Karlie — were notably absent from the shirt. Thus, this led to speculation that there might be some "bad blood" between the friends. Fuel was added to the fire last month, according to MTV News, when Swift declined to appear on Kloss' new Freeform show, Movie Night With Karlie, due to "scheduling issues."
But, according to Us Weekly, Swift and Kloss are still "very much good friends" a source told the magazine. And a source told E! News that Swift and Kloss' friendship is still strong, although they don't get to see each other as much as they used to due to their busy schedules.
While the lyrics to "This Is Why We Can't Have Nice Things" does indicate a broken friendship, there is nothing in particular that points to the song being about Kloss. The song's lyrics are heavy on pronouns (he in particular) and refer to Swift giving the subject a second chance before they tricked her over the phone. None of these things sound like a motif from Kloss and Swift's highly documented relationship.
But these lyrics and this story does bear a strong resemblance to Swift's former friend, Kanye West. The song is all about West, according to People, and allows for Swift to tell her side of their story for the first time. Swift and West's feud is pretty notorious by now, starting when West interrupted Swift's acceptance speech at the 2009 MTV Video Music Awards, then reconciling a few years later, and then feuding again over social media when West's wife, Kim Kardashian, released snippets of a phone call between West and Swift. Needless to say, the tale of their friendship (or lack thereof) is big enough to write a song about.
While "This Is Why We Can't Have Nice Things" is about a former friend, it is more than likely that the song isn't about Kloss. But until Swift flat out says who the song is about, fans are allowed to believe anything they want.