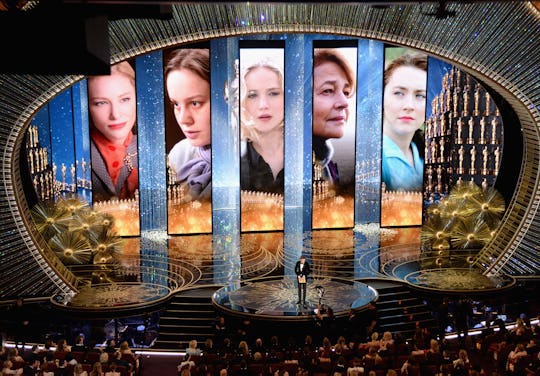 Kevin Winter/Getty Images Entertainment/Getty Images
Is This Oscars The Longest Ever? The Show Is Literally Taking Forever
If you stayed up to find out if Leonardo DiCaprio finally won an Oscar or what film was this year's Best Picture, you're probably zonked right now. I'm sorry, but is this the longest Oscars ever? Even Chris Rock admitted he was tired. "It is late," he joked. "It is infomercial late." With the broadcast of the 88th Academy Awards wrapping up just before midnight, it really just became late-night television late, so he has a point. This thing seemed to drag on and on and on, and every year it gets longer and longer and longer. But this is not the longest Oscars ceremony ever, which is shocking, because I was contemplating a cup of coffee at some points.
According to Google, that record is held by the 74th Academy Awards in 2002 which ran for 4 hours and 23 minutes, which took it way past midnight. It looks like this one might've been able to take the cake if Leonardo DiCaprio had talked too long or Chris Rock tried to sell Girl Scout cookies again. It was cute at 9 p.m. Please don't make us sit up until 12:30 a.m. — not even if Jacob Tremblay, the most adorable child in the world is going to get to go accept an award with the Room crew or something. We beg of you.
Amen. ABC actually tried to make the Oscars as short as humanly possible this year. Did you notice that scroll on the bottom of the screen all night? They had entered the names of people involved with each nominee so that the winners wouldn't have to list off 20-plus people and waste precious time with technicalities. In recent years, winners have often taken the time to give mini-speeches about their personal causes. However important, those speeches take too long.
Many of the winners still thanked their families, their crew, the stylists, the personal assistants, the dogs, the guys who pump their gas anyway. (Obviously, they didn't really thank their dogs, but around 11:45 p.m., it started to feel like it.) Luckily, the scroll sort of worked. The final credits rolled just a few minutes after midnight, which is not half bad. The stars, of course, have nothing to do tomorrow, so they can all head off to the various after parties. We non-celebs will have to make do with baggy eyes and the snooze button tomorrow morning. But it was worth seeing Leo's face when he finally won Best Actor, right? (Right.)