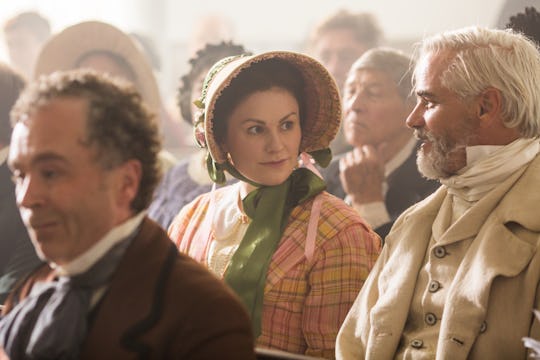 Sabrina Lantos/Netflix
Thomas Kinnear From 'Alias Grace' Suffered A Grim Fate
Margaret Atwood is definitely having a moment this year. In April, the acclaimed adaptation of The Handmaid's Tale was released on Hulu and swept the Emmys. Now Netflix has dropped its adaptation of another one of Atwood's novels: Alias Grace. It's historical fiction surrounding a real-life murder case... but this being fiction, only some things are based in reality. One of the novel's characters is named Thomas, but was he fabricated for the plot? Is Thomas Kinnear from Alias Grace a real person? In Alias Grace, he is Grace Marks' employer and one of two murder victims.
Atwood based her novel on a real murder trial, but unfortunately few hard facts are actually known about the crime. Grace Marks, who was an Irish immigrant and a teenager at the time, was convicted of murdering Thomas Kinnear and Nancy Montgomery, his housemaid and pregnant mistress. While Marks was sentenced to life in prison, her accomplice James McDermott was hanged. It still remains unclear what role Marks actually played in the crimes (was she the ringleader or somehow manipulated into it), but Kinnear was indeed a real person who suffered a tragic end. The details of everything else get a lot murkier from there, though.
Margaret Atwood read about Marks and the trial while she was a student at Harvard and became fascinated by the story ever since. In fact, Atwood wrote in her afterward to Alias Grace that:
The details were sensational: Grace Marks was uncommonly pretty and also extremely young; Kinnear's housekeeper, Nancy Montgomery, had previously given birth to an illegitimate child and was Thomas Kinnear's mistress; at her autopsy she was found to be pregnant. Grace and her fellow servant James McDermott had run away to the United States together and were assumed by the press to be lovers. The combination of sex, violence and the deplorable insubordination of the lower classes was most attractive to the journalists of the day.
Honestly, this story is most attractive to journalists of today, too. Marks was released from prison 30 years after her sentencing, but claimed to remember nothing. This caused people to speculate about her true role: was she the mastermind, or just a second hand for McDermott? Was she even involved at all? The mystery of it all is enticing, and I know I'm not alone in my excitement for Netflix's adaptation. In Netflix's Alias Grace, Thomas Kinnear is portrayed by actor Paul Gross. Not much is known about Kinnear, but he must've been wealthy enough to employ Marks, McDermott, and Montgomery.
This is one murder case where the alleged perpetrator seems to get more of the spotlight than the victims. Unfortunately, not much is confirmed about what really happened that resulted in Kinnear and Montgomery's deaths. Not only that, but Marks' life after prison is itself a mystery; traces of her were lost after her release from Kingston Penitentiary. As such, the series will apparently leave viewers wondering.
Sarah Gadon, who plays Grace Marks in Alias Grace, told the New York Daily News, "I hope there's ambiguity. I hope everyone will take their own journey with Grace. Great writing is infinite, which is why people keep going back to it." I'll be sure to keep in mind that Alias Grace is, for the most part, historical fiction, but I also won't forget that two people really lost their lives — seemingly at the hand of a 16-year-old girl.
Watch Romper's new video series, Romper's Doula Diaries:
Check out the entire Romper's Doula Diaries series and other videos on Facebook and the Bustle app across Apple TV, Roku, and Amazon Fire TV.