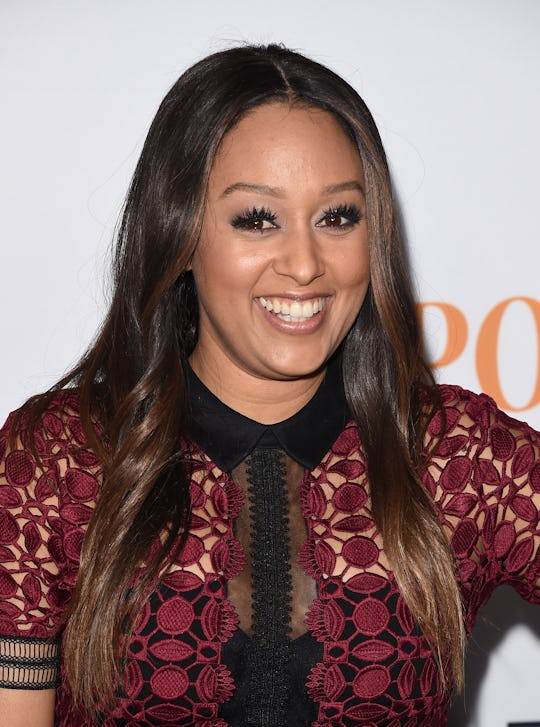 Is Tia Mowry Pregnant? No, & She Has A Few Awesome Words For Body Shamers
On Monday, Tia Mowry, '90s icon and host of Tia Mowry at Home, sat down with HuffPost Live and spoke out about body shaming. Tia Mowry is not pregnant — but she's responding to those who ask the question with compassion and humor, which is totally admirable. The star, who became famous for her role in Sister, Sister in the '90s, now hosts a cooking show and says she enjoys the meals she cooks. "Guys, I'm not pregnant, I'm just happy," she said, attributing the weight gain to her show. "Honey, I eat my food. ... I'm just enjoying life and when I want to drop the pounds, I will, but right now I'm happy with who I am."
It's an explanation that she shouldn't have to provide the world with, but she grew tired of seeing negative comments on her Instagram pictures. "It's a form of body shaming, I will say that, and it's pretty unfortunate. We live in a society that is so obsessed with being perfect." She then proceeded to win over all of our hearts by quoting Beyonce. "It's almost like what Beyoncé said — I'm obsessed with Beyoncé, I love her — she has a song and she said, 'Perfection is like a disease.'"
"Why can't we just be us?" asked Mowry. She quoted a few of the hurtful quotes on her Instagram pictures, which ranged from commenting on her weight to the color of her teeth. "Why would you say that? Why do you feel the need to say that?"
It seems like Mowry keeps a healthy perspective on people's comments, however. She said that when she's targeted with negative responses, she asks, "Is that how you love yourself?"
She's also posted a couple of light-hearted Instagram pictures to clear the record, which I think is a great way to remain a role model for her young fans today, as well as the fans who grew up alongside her.
"It has to stop. We all need to be more supportive of different religions, different body types, sexual preferences, all of that. We need to be more supportive with body images, especially with women, showing that all sizes are beautiful and I'm talking about in magazines, advertisement in regards to what's sexy and what's not sexy. We all need to be a little more supportive of one another," Mowry said.
I can't think of a better response for combating negativity. Her message is one of patience, gratitude, and honesty — not always easy traits to hold onto when dealing with online trolls!
Images: Jason Merritt/Getty Images, Tia Mowry/Instagram (1, 2)