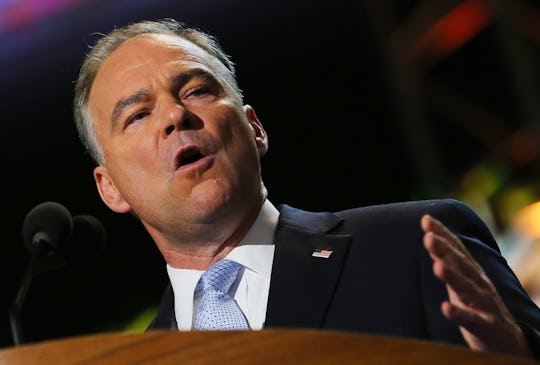 Joe Raedle/Getty Images News/Getty Images
Tim Kaine Appears To Be MIA At The Inauguration
Politicians from both the past and present flooded the dais at the inauguration ceremony for Donald Trump and Mike Pence Friday morning. But one face was hard to spot — no one could find Virginia Sen. Tim Kaine at the inauguration. It's possible that he decided not to attend at all. During the broadcast, most news networks were quick to point out all of the most interesting and recognizable faces — like President George W. Bush, Trump's children, and Hillary Clinton. Kaine wouldn't have been on the dais with the rest of the ex-first families, but since he ran for vice president alongside Clinton, it would have been worthwhile to see how he was feeling about inaugurating Trump.
Vermont Sen. Bernie Sanders, who also ran for president last year, was there. It appears as though Kaine was not at the inauguration, joining the other 66 Democrat representatives who boycotted the ceremony, according to ABC News. Kaine didn't say that he would officially boycott, but he has been grilling Trump's Cabinet picks all week in their nomination hearings, and it hasn't been very pretty. He's also been tweeting all week saying that some weren't qualified at all. Like on Thursday when he wrote, "Soon: Americans share why they would be hurt by Tom Price's policies."
Those are fighting words, right? He also issued a statement saying that he would not support Tim Price's confirmation, but that he would support Nicki Haley as ambassador, and that he was still on the fence about Betsy DeVos. It's likely that he just couldn't stomach the whole event, although his former running mate, Hillary Clinton did manage to accompany her husband to the whole ordeal. (Though she didn't look too thrilled about it, which is fair.)
Kaine was almost more upset about the election results than Clinton was. He told The Washington Post that he was bummed. "I'm disappointed because I think I would have done a good job and I think Hillary would have been a great president, but I have a job to do here that in some ways may have gotten more important," he said.
It might be better that Kaine isn't the vice president and still has a senate seat. Vice presidents don't often go down in history for policy-making, and it's good that Democrats have Kaine in the Senate to question Trump's team and their policies. Kaine might not have been a household name before the 2016 election, but he's certainly making himself known during these confirmation hearings — and by sitting out the inauguration.