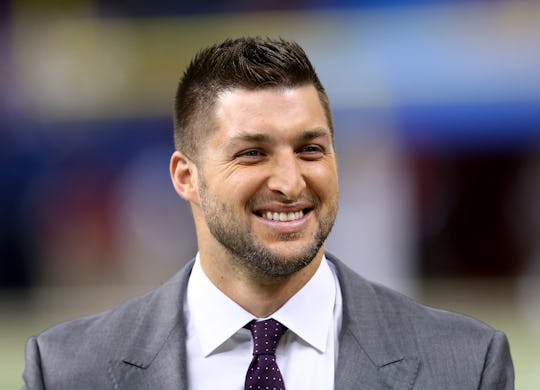 Streeter Lecka/Getty Images Sport/Getty Images
Is Tim Tebow Still Playing In The NFL? He's A Free Agent (Who Won't Be At The RNC)
Unlike his rumored speaking commitment at the 2016 Republican National Convention, the advent of Tim Tebow's NFL career was no joke. The outspoken evangelical Christian ascended to the professional league as a prominent quarterback in 2010, having already won the Heisman Trophy while at the University of Florida in 2007. His promise and conservative stances colored his two-season stint with the Denver Broncos, but his most recent claim to fame was his bemused denial that he had ever planned to speak on behalf of Donald Trump at the RNC. The situation jogged America's collective memory about the guy, and it's got some wondering whether Tim Tebow is even still playing in the NFL.
Although he's signed contracts with three other NFL teams since leaving the Broncos in 2011, Tebow hasn't played in a regular-season game since his final game with the New York Jets in 2012. After that, in 2013, the New England Patriots cut him just a few months after he signed with them. He signed with the Philadelphia Eagles after a two-year hiatus in 2015, but they let him go before he had the opportunity to compete in an NFL contest shortly afterwards. He's technically a free agent now, but it's unclear whether he'll ever join another NFL team again.
Less than a week after the Philadelphia Eagles released him in September 2015, Tebow returned to ESPN as a college football analyst, a position he'd first filled in 2013. When he temporarily left the job to once again give the NFL a shot, ESPN was clear that the network wanted him back when he was ready. "Tim quickly established a tremendous rapport with everyone he worked with in front of and behind the camera," Executive Vice President John Wildhack said in a statement at the time, according to USA Today. "He has a tireless work ethic and a unique passion for football."
Perhaps Tebow's greatest passion, though, is the Tim Tebow Foundation. In an Instagram video debunking the rumor that he'd speak at the RNC, the 28-year-old said it was through that organization that he felt he was most effective:
My goal has always been to be able to make a difference in the biggest way possible, and if one day that's a political realm, then that's what I'll do. But right now I really believe that that's through my foundation and our amazing partners and fighting for kids that can't fight for themselves.
According to its website, the Tim Tebow Foundation is dedicated to providing faith, hope, and love "to those needing a brighter day in their darkest hour of need." These efforts include providing adoption aid grants, a prom experience "centered on God's love" for people with special needs, and even a program that gives kids with life-threatening illnesses the chance to meet Tim Tebow himself. He may not be publicly rallying for Donald Trump at the RNC or shining as a star quarterback in the NFL, but it certainly does seem as though Tebow has found his purpose.