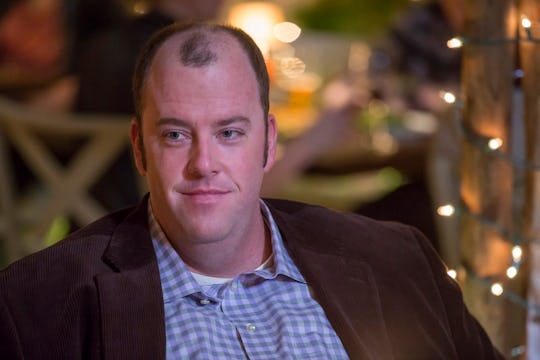 Ron Batzdorff/NBC
Is Toby Dead On 'This Is Us'? Something Bad Happened On Christmas Eve
This Is Us has cemented itself as a tearjerker, providing a weekly dose of genuine warmth, family melodrama, and heartbreak every time you tune in. "Last Christmas" had all of that and more (and more and more). When Toby showed up out of the blue on Christmas Eve to tell Kate he couldn't be without her, it felt like a win in the best way. It was the assurance Kate had been looking for and been denied during "The Trip." But This Is Us isn't just about happy tears; there's just as much tragedy as joy in the show. Though the episode constantly reaffirmed that "nothing bad happens on Christmas Eve," that proved untrue when Toby took a shocking spill over the coffee table during the family's celebrations. He was immediately rushed to the hospital, but is Toby dead on This Is Us?
Unfortunately the episode ended on a cliffhanger, so Toby's fate remains unresolved. His sudden fall was the kind of surprise that made sense in retrospect; though everything had been going well before that, it was also clear that something wasn't quite right. Toby complained of aches and pains, but blamed them on the plane ride, and he seemed more winded than usual following some fooling around with Kate. What happened wasn't confirmed in the episode, but it seemed like Toby may have suffered from a heart attack. It couldn't have come at a worse time.
Kate and Toby's relationship has had some abrupt stops and starts over the course of Season 1, but the last few weeks have been especially trying for them. They got progressively closer as the episodes went by, until Toby's decision to stop dieting threw a wrench in things and Kate broke up with him so that she could stay firm when it came to following her own goals. She still missed him, but her attempts to reach out were rebuffed as Toby dealt with his own misery in the wake of the breakup.
It seemed like they were both going to let their personal issues push them apart, but Toby came through in "Last Christmas." He'd rather lose pizza than lose Kate, which is truly the most touching gesture a human being can make on this earth, so he got on a plane to come to New York and profess his love for her all over again. It worked, too: Kate was thrilled to see him, and he even got along with her family. Everything was perfect, so of course it couldn't last.
Whether Toby survives or not, it will have a profound impact on the show and on Kate in particular. The family is still processing their grief over Jack's death, and Kate is preparing for a major surgery. Whatever the outcome, Toby's health scare is going to throw Kate a curveball, to put it mildly.
But remember: nothing bad happens on Christmas Eve, and This Is Us doles out as much hope as it does despair. Things may look dire for Toby now, but the show wouldn't let him die. Right?