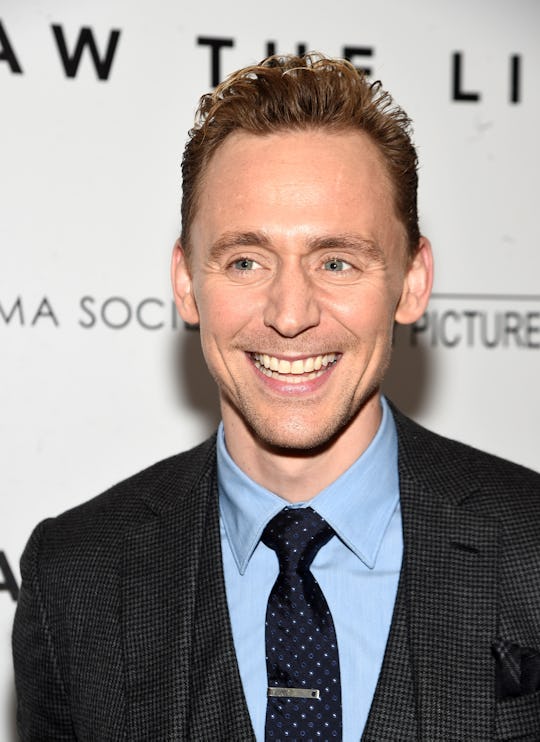 Jamie McCarthy/Getty Images Entertainment/Getty Images
Is Tom Hiddleston Performing At The ACMs? He's Certainly Got The Talent
Country music fans who love The Avengers and/or handsome British men will get a special treat while watching the Academy of Country Music Awards this year. Actor Tom Hiddleston, a serious contender for Most Charming Man in the World, will be presenting an award at the ceremony. But will Tom Hiddleston be performing at the ACMs? In the upcoming biopic I Saw The Light, he's playing country music legend Hank Williams, and he does his own singing in the film, so the ACMs would be a perfect time for him to bust out a little preview.
Unfortunately, it looks like viewers will have to content themselves with Hiddleston's spoken presentation. He's nowhere to be found on the list of ACM performers, but although that list is sadly Loki-free, it ain't too shabby. Carrie Underwood, Tim McGraw, and Dolly Parton are only a few of the performers who will be gracing the stage. And hey, even if Hiddleston isn't singing, he's still pretty great at simply standing in a suit and talking. Viewers who want to see him do more will just have to shell out for movie tickets for I Saw The Light, which also stars Elizabeth Olsen as Williams' first wife, Audrey. (And their chemistry in the film is so strong, it has sparked rumors that they're dating!)
Hiddleston was an unconventional choice to play Williams, who was often called the "Hillbilly Shakespeare" for his lonely, poetic songs like "Cold Cold Heart." Most Americans know Hiddleston best for his role as Thor's villainous brother Loki, in various Marvel movies like The Avengers. At age 35, he is already much older than Williams — who died at 29 after spiraling into addiction — ever got to be. Plus, the whole "British actor playing a quintessentially American hero" thing is always a little strange.
But Hiddleston poured himself into the role, practicing his singing for seven hours a day, and telling Rolling Stone, "I take my responsibility very seriously. I know a lot of people in this country... really care about Hank Williams. He's an inspiration and an icon for so many people, so I don't take that lightly." Plus, he's got the "Shakespeare" part of the "Hillbilly Shakespeare" down, having starred in a highly-lauded production of Coriolanus, and generally being a huge Shakespeare fanboy.
Viewers will have to wait and see just how Hank Williams-esque Hiddleston gets in his ACM presentation. I've got my fingers crossed that he'll sneak a guitar onstage and start crooning, but no matter what, it should be a good show.