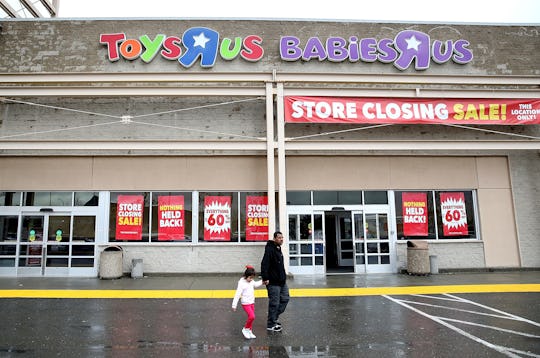 Justin Sullivan/Getty Images News/Getty Images
Toys 'R' Us Might Be Making A Comeback Because Childhood Dreams DO Come True
Millennials everywhere were left heartbroken when Toys 'R' Us — aka our collective childhood happy place — filed for Chapter 11 bankruptcy protection in Sept. 2017, and then later announced it would be liquidating and closing all 735 of its stores across the United States. Issues with debts, coupled with changes in consumer shopping habits, and competition from retailers like Amazon, Walmart, and Target, ultimately appeared to seal its fate as a no-longer-viable business. But is Toys 'R' Us making a comeback? It sounds like this might not be the end of Geoffrey the Giraffe after all.
On Monday, the lenders currently controlling the now-bankrupt company filed court papers indicating that they were actually canceling the bankruptcy auction of the Toys 'R' Us and Babies 'R' Us brand names, along with other intellectual property assets, according to Reuters, and that they plan to attempt to revive them instead. It won't be as simple as opting to just re-open stores though: the lenders will be creating a branding company that will maintain the licensing agreements for both Toys 'R' Us and Babies 'R' Us, which will mean they can "invest and develop new retail shops," using the names. It might at least help that the Toys 'R' Us brands are still continuing to exist in international markets, but anyone expecting the one-time toy giant to effortlessly bounce back, might be disappointed: experts say that resurrecting the company definitely won't be easy.
For one, the lenders themselves don't actually sound super enthusiastic about the plan. According to The Huffington Post, the decision was made due to a lack of superior bids that would have offered "probable economic recovery" to creditors, and also be worthwhile to stakeholders, meaning that maintaining the brands seemed to be a better option than selling them off. And to be sure, some of the factors leading to the company's bankruptcy will still exist if it returns — Toys 'R' Us will still face stiff competition from other retailers, like Amazon, as well as KB Toys Inc, which is ramping up again under new ownership, according to Bloomberg.
Yet, even if it can win over customers again, Toys 'R' Us will certainly miss out on the all-important holiday season this year, which will mean a big financial hit. And that's not all: the company has already sold off all of its retail space, meaning it will have to start again from scratch; and it has also lost some of its major toy suppliers, like Mattel and Hasbro.
At the same time, the decision to continue with the Toys 'R' Us brand is likely at least potentially promising for some of the companies that were hit particularly hard by its closure. The Toy Insider's editorial director, Jackie Breyer, told Forbes in September that Toys 'R' Us was a company that "offered smaller toy companies opportunities that other retailers [couldn't or wouldn't]," and that "no other retailer [took] as many chances on new brands and innovation as Toys 'R' Us did." Those smaller companies have since had to find other ways to sell their products, and even those who have may welcome the idea of Toys 'R' Us re-entering the market once again.
While Toys 'R' Us works to get back on its feet though, it's clear that its competitors have already been focusing on growing their own toy sales. Breyer told Forbes that the closure of Toys 'R' Us in the United States spurred the "launch of new toy retailers," and led stores like Walmart and Target to expand their toy departments (or, in the case of other already-existing retailers, to introduce toy departments for the first time).
In other words, Toys 'R' Us will definitely face an uphill battle, and it may or may not work out. But at least there's still hope — and that's likely to be welcome news to all the '80s and '90s-era Toys 'R' Us kids currently in need of a little uplifting retail nostalgia.