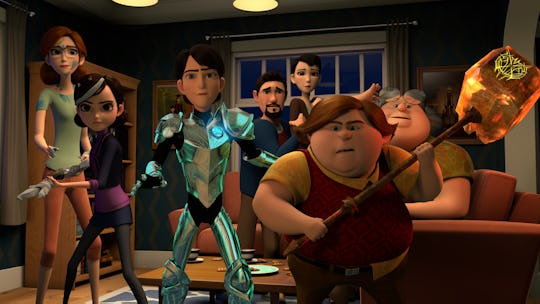 Netflix
The End Of 'Trollhunters' Is Just The Beginning Of 'Tales Of Arcadia'
Guillermo del Toro's hit animated series, Trollhunters, has released it's third season and both fans and critics are loving it. However, although the season was epic, fans are now wondering is Trollhunters really over? Unfortunately, the third season was really the final season, but that doesn't mean this is the last you'll see of the show's characters.
It was announced last year that Trollhunters was actually just the first installment of the Tales of Arcadia trilogy. The next two installments, 3 Below and Wizards, will be released in late 2018 and 2019, respectively. The lead characters of 3 Below were introduced in Trollhunters Season 3 and while it hans't officially been confirmed who Wizards will be centered on, Merlin, a great wizard, was also introduced in the last season of Trollhunters.
While there isn't too much information about Wizards just yet, 3 Below will star Tatiana Maslany and Diego Luna as Aja and Krel, two royal teenage aliens who flee a surprise takeover of their home planet by an evil dictator and crash land in Arcadia. The teens will be joined by their bodyguard and together they will attempt to evade capture by intergalactic bounty hunters. They'll also struggle to blend in and adapt to high school while attempting to repair their ship so they can return home and defend their planet.
In Trollhunters, they first seemed to just be just strange foreign exchange students that Jim had to show around in order to graduate. However, Aja and Krel unknowingly came to the aid of Jim and the rest of the Trollhunters team in the fight against the evil Morgana.
Although the new series will star different characters, Trollhunters fans can still expect to see some of their favorite characters in the new series. Executive producer Marc Guggenheim told Collider, "3 Below allows relatively minor characters from Trollhunters the opportunity to shine, so we get to revisit those characters." Although the characters will be familiar, the tone of the show will be quite different than Trollhunters.
"I think Trollhunters is a classic, Campbellian hero story like The Force Awakens, telling a very tried-and-true story that you've seen the classic structure of," he said. "3 Below is a lot wackier and much more unconventional show. I'm just as proud of 3 Below as I am of Trollhunters, just for completely different reasons." In addition to the tonal change between shows, Guggenheim also noted that "3 Below is even more visually impressive than Trollhunters."
Besides Maslany and Luna, the rest of the cast of 3 Below hasn't been announced yet, but if it's anything like Trollhunters, it'll be star studded. Trollhunters starred the late Anton Yelchin as Jim and Kelsey Grammer as Blinky, which scored him a Daytime Emmy. The series also featured Mark Hamill, Lena Headey, David Bradley, Ron Perlman, Steven Yeun, Anjelica Huston, Charlie Saxton, Jonathan Hyde, Amy Landecker, Lexi Medrano, and Fred Tatasciore. It'll be interesting to see who fills the cast for 3 Below and which Trollhunters characters crossover to the new series.
Then, following 3 Below, comes Wizards, and though it's still pretty far off fans can't wait to see how the final installment of Tales of Arcadia will come together. According to the synopsis, Wizards "culminates in an apocalyptic battle for the control of magic that will ultimately determine the fate of [the worlds of trolls, aliens, and wizards] that have now converged." This sounds incredibly epic and it'll be amazing to see new and old characters come together for one final battle to save Arcadia.
While you wait for 3 Below and Wizards, you can now stream the entire three seasons of Trollhunters on Netflix. Whether you've already seen it or never seen it before, it's a fun watch for the whole family.