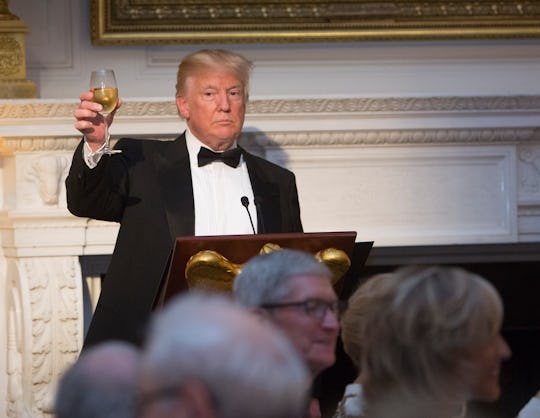 Pool/Getty Images News/Getty Images
Trump's RSVP For The 2018 White House Correspondents' Dinner Probably Won't Surprise You
With the 2018 White House Correspondents Association dinner happening this weekend — on Saturday, April 28 — it's only fair to wonder if the POTUS himself will be attending. Given his messy and tumultuous relationship with the media, you might have already assumed, but President Donald Trump will not be attending the 2018 WHCA dinner, according to The Hollywood Reporter, making it the second year he's opted out of the annual dinner that honors the hard work of journalists covering the happenings of the White House and the Trump administration.
News that Trump wouldn't attend the 2018 WHCA dinner didn't come until somewhat recently. Up until the two weeks before the annual event, it was unclear whether Trump would make it. In fact, it was on April 6 that the WHCA's president announced that even those behind the scenes didn't really know what the POTUS was planning on doing with his invite. "We don't have anything to report yet on whether the president plans to attend," Margaret Talev said at the time, according to Politico.
But, as expected, Trump revealed that he wouldn't be making an appearance on Saturday night. This week, it was reported that Trump's team wrote to his supporters in a campaign fundraising email, informing them that he had no plans on attending the 2018 WHCA dinner, according to The Hill.
Before explaining in his email that he would be spending his evening doing something "much better," according to The Hill, he reportedly wrote:
My staff asked, "Mr. President, the White House Correspondents' Dinner is coming up. Will you go?" I said, "Why would I want to be stuck in a room with a bunch of fake news liberals who hate me?"
Instead of attending the WHCA dinner, as The Hill reported, Trump will attend a rally just outside of Detroit in Washington, Michigan.
This might sound familiar to those who have been closely following the news since Trump moved into the Oval Office. After all, it was only a year ago when Trump made the same decision not to attend the 2017 WHCA dinner. Although Trump's announcement that he wouldn't attend in 2017 was certainly more diplomatic than his email announcement this year, there was still plenty of animosity between the administration and the press.
"I will not be attending the White House Correspondents' Association Dinner this year," Trump tweeted at the time. "Please wish everyone well and have a great evening."
Trump's decision to sit out last year's WHCA dinner made him the first POTUS in 36 years to skip it, as NPR reported at the time. Then-White House deputy press secretary Sarah Huckabee Sanders told ABC's This Week, according to NPR, "This wasn't a president that was elected to spend his time with reporters and celebrities." She continued:
I think it's kind of naive of us to think that we can all walk into a room for a couple of hours and pretend that some of that tension isn't there.
Now, even though a full year has passed, Trump's decision to miss it again makes it clear that he still isn't ready to rub shoulders with the journalists and White House correspondents who attend the annual dinner, especially considering the fact that the whole point of the WHCA dinner is to honor their work and the First Amendment.
Despite his lack of attendance, the WHCA is an amazing organization that's continued to work "to maintain independent news media coverage of the president, advocating for access, handling logistics for pools of reporters who stay close to the president and those who travel with him, and providing scholarships to journalism students," as the association's website explained, even without the support of the nation's leader.
Check out Romper's new video series, Bearing The Motherload, where disagreeing parents from different sides of an issue sit down with a mediator and talk about how to support (and not judge) each other's parenting perspectives. New episodes air Mondays on Facebook.