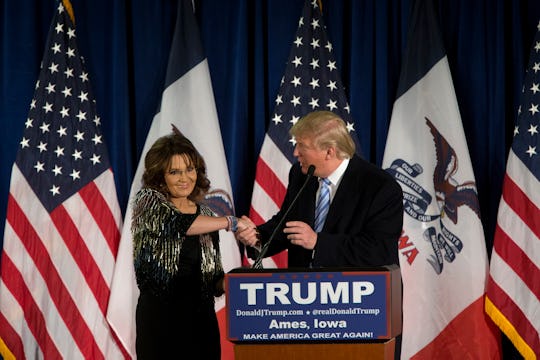 Aaron P. Bernstein/Getty Images News/Getty Images
Is Trump Considering Any Women For His Cabinet? You Might Be Surprised
When former Secretary of State Hillary Clinton was running for president, she vowed to nominate women to half the positions in her cabinet. When Canadian feminist-in-chief Justin Trudeau became Prime Minister, he, too, compiled a staff that was half female. So some may be wondering if President-elect Donald Trump is considering any women for his cabinet. Believe it or not, he reportedly is, although there aren't too many. According to Newsweek, Trump is considering fewer women than any administration since Gerald Ford's.
Constituents may also be unimpressed with the particular women that Trump is thought to be considering, as well. No, he's not going to nominate Ivanka as Secretary of State – although sources have told CBS News that he is trying to get top-secret security clearance for her and her brothers. But on the other hand, he's not about to tap Massachusetts Sen. Elizabeth Warren, either. Trump's women are rounding out to be just as troubling as the men he's choosing to help him lead the country, and like the men, many of them are questionably qualified for the positions they're meant to fill. Let's take a look at the women who might soon have the ear of the president.
According to The New York Times, Trump is considering former Arizona Gov. Jan Brewer for his Interior Secretary. Brewer, who holds no college degree, became the governor when her predecessor, former Gov. Janet Napolitano, was nominated as Secretary of Homeland Security by President Obama. As the state had no lieutenant governor, Brewer, then secretary of state, was next in the line of succession. If her name sounds familiar, that may be because she signed Arizona S.B. 1070 into law. That's the one that forces immigrants in Arizona to carry their papers at all times, à la Nazi Germany. Still, she might be a better choice than the other woman up for the spot, former Alaska Gov. Sarah Palin, who's so in love with oil drilling, she probably considers Mark Walkberg's Deepwater Horizon a feel-good movie.
Trump is also reportedly considering Victoria A. Lipnic of the Equal Employment Opportunity Commission for Labor Secretary. According to The Atlantic, Lipnic voted against wage transparency, is against paid leave for workers, and she's totally cool with employers deciding which bathrooms their transgender employees should use.
Don't give up now; there are only two more! That's right, a total of five women are being considered for a total of four positions. Next up is possible U.N. Ambassador and newly-ousted New Hampshire Sen. Kelly Ayotte, who spent her entire re-election campaign waffling on whether she even supported Trump. In the end, according to CNN, she said she would not vote for him. That's going to be an awkward job interview.
Finally, for the position of CIA Director, there's Frances Townsend, a former National Security Advisor and Homeland Security advisor to former President George W. Bush. Sounds qualified, right? Well, except for a tiny little controversy wherein, according to Salon, she's been linked to the People's Mujahedin of Iran, which was designated as a terrorist organization.
Trump's choices are particularly troubling given that, as Newsweek reported, all-male groups tend to be more aggressive, more over-confident, and make more risky decisions than groups that include women. And the last thing that Trump needs is a bunch of angry men egging him on. Let's hope at least one of these women gets nominated, and also has the good sense to lock Trump out of his Twitter account when he's not looking, lest he start a war over a rude meme.