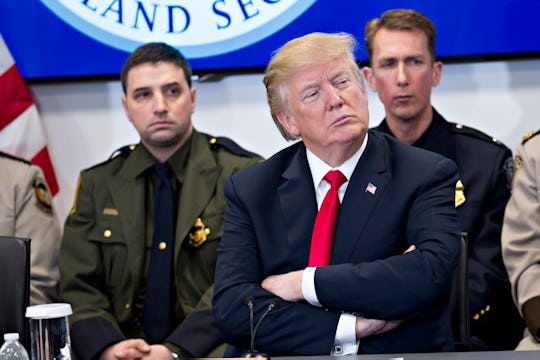 Pool/Getty Images News/Getty Images
Will Trump Be Watching 'Celebrity Big Brother'? He Knows A Few Contestants Well
When the cast of Celebrity Big Brother was announced during the Grammys, people quickly noticed a major similarity between many of the stars: a number of them had been on The Apprentice and Celebrity Apprentice. As most people know, before he became president, Donald Trump was the host of The Apprentice and Celebrity Apprentice. So is Trump watching Celebrity Big Brother to see how his former contestants do? Surprisingly, he hasn't said a word about it. Well, not yet anyway.
Most people were shocked and excited when they learned Omarosa Manigault would be moving into the Big Brother house. Besides having appeared on the first season of The Apprentice, Celebrity Apprentice, and All-Star Celebrity Apprentice (she was fired all three times, by the way), Omarosa was appointed as a White House aide after Trump was elected. She left the White House in a very surprising fashion at the end of the last year, and now that she's going to the Big Brother house many people expect her to spill the beans about what it was like working for him. That alone should be enough to make Trump want to watch, but he hasn't said yet whether or not he'll be tuning in. Still, surely if Omarosa does say something negative about him, he'll be quick to take to Twitter and counter whatever is said, as he is known to do.
Of course Omarosa isn't the only houseguest to be familiar with Trump. Mark McGrath, Brandi Glanville, and Keshia Knight Pulliam have all appeared on seasons of Celebrity Apprentice as well. Brandi and Keshia were even on the same season; neither of them won. With four of the houseguests having some connection to Trump, it seems almost inevitable that a conversation about the current president and his position in the Oval Office will come up. But will Omarosa actually discuss what working in the White House was like or will she dodge those questions? It's hard to say.
The Big Brother house is the perfect place for secrets to come out. The houseguests can't leave the house unless they're evicted and they have no connection to the outside world. They don't have a TV or really much of anything in the way of entertainment, so all they can do all day is eat, sleep, and talk to each other. Besides the competitions, of course. With nothing much else going on, it'd make sense if Omarosa ends up being put on the spot. Hearing dirt on Trump is why most people will be tuning in after all.
However, if Omarosa doesn't say anything about Trump, or at least, nothing negative, it seems doubtful he will comment on it. While he's never been afraid to air his thoughts about anything on Twitter, he probably wouldn't want to give Omarosa the satisfaction of talking about her unless she says something first. Why would he draw more attention to someone he'd probably rather ignore? As for the rest of the houseguests he's familiar with, Trump has no reason to discuss them unless they say something first. It's doubtful he's even talked to any of them since he last saw them on Celebrity Apprentice.
Regardless, even if Trump is watching, he probably (and hopefully) won't be telling us about it. Hopefully, he'll be too busy trying to run, you know, run the country and won't have the time to watch reality television. You, on the other hand, can tune in starting Wednesday, Feb. 7 at 8 p.m. ET to see the premiere of Celebrity Big Brother on CBS.
Check out Romper's new video series, Romper's Doula Diaries:
Watch full episodes of Romper's Doula Diaries on Facebook Watch.