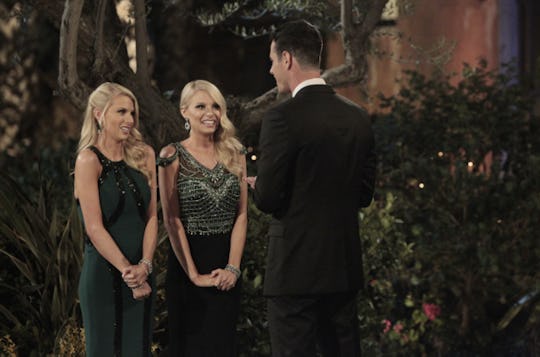 Is "Twin" An Occupation? 'The Bachelor's Emily & Haley Think So
Contestants on season 20 of The Bachelor have made headlines with their interesting professions. There's gerontologist Jackie, cowgirl Maegan, and Tiara, a chicken enthusiast. But is "twin" an occupation? Emily and Haley think so. "Twin" is listed as the occupation for the Ferguson ladies—Emily and Haley—on their contestant biography pages, according to ABC.
So, apparently twinning is a legit profession for Emily and Haley. Let me explain. You see, according to CelebrityLaundry.com, "This is actually not their first stint on reality television – they tried out for the Dallas Cowboys cheerleading squad and were featured on the CMT reality show about the Cowboys cheerleaders."
Emily and Haley, 23, also worked together as cocktail waitresses at Marquee in the Cosmopolitan hotel in Las Vegas. So, as entertainers and models, Emily and Haley make a good case for how being a twin is more than DNA, but a j-o-b, or at least part of their hustle.
I mean, twinning certainly worked for these ladies:
Mary-Kate Olsen and Ashley Olsen, actors and award-winning fashion designers, rely on their talent for success, but the twin factor certainly adds to their appeal.
I, for one, can't wait to see what talent Emily and Haley have to offer. Luckily, in the first couple of episodes there will be an actual talent show on The Bachelor. And I have a feeling the twins are gonna bring it.
Here's Emily tweeting a model shot with sis, Haley:
But what do they do? In addition to being professional twins, Emily and Haley are also bloggers. Emily and Haley, along with their longtime friend Mace Camp, write a blog called blondesense, "a beauty and lifestyle blog by three Vegas twenty-somethings," according to the blog.
Here's a look at Haley giving blondsense subscribers a natural cat eye make-up tutorial.
And then there's this, more recent sock bun tutorial, also from blondsense:
And just for fun, here's a video of the twins from a "Bohemian Photoshoot," also featured on the blondsense blog.
Haley also mentioned blondesense on Twitter recently:
The twins are gorgeous, glamorous women, and I'm sure many women aspire to look like them. Others might be into their beauty tutorials (I dig the sock bun video, to be honest). Look, blondesense isn't Beauty.com, but it's a start. If being twins can help these ladies launch a career doing whatever they want to do, then more power to them.
Image: Rick Rowell/ABC/Getty Images; Giphy (1); blondesense/Youtube