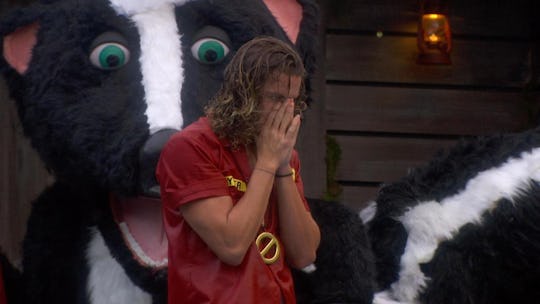 Screengrab/CBS
Tyler Crispen's Hometown Segment Surprised 'Big Brother' Fans
Not every Big Brother player gets a hometown segment, but when it happens it is always interesting to learn more about the players and where they come from. However, Tyler Crispen's home segment left people a little confused. So is Tyler really from Ohio?
You may recall in the first episode of the season Tyler said he was from Hilton Head, South Carolina, where Angela also said she was from. So learning Tyler's hometown is actually Ohio was a little confusing for some. But there is an easy explanation. According to his Big Brother bio, Tyler's hometown is in fact Rossford, Ohio, but he's currently living in Hilton Head, South Carolina where he works as a lifeguard. So if you were confused why Tyler was giving off serious surfer vibes when his mom said he never surfed that should explain it.
Even though his mom said he doesn't surf, looking at Tyler's Instagram it's easy to see he loves being in the water, which is good since he is a lifeguard after all. Not only does Tyler hit the water in the South Carolina, he also goes to Australia to catch some waves. Clearly as long as there's an ocean nearby, Tyler is happy, which is what made the revelation of his hometown so shocking.
What was not shocking was the fact that his family said Tyler was always good competitor. However, instead of competing in bowling tournaments, Tyler is now competing for $500,000 and he is doing great so far.
Although his alliance, Level 6, has lost two out of their six members so far they have somehow still managed to fly mostly under the radar. The other side of the house is still unaware that their alliance exists. Rockstar came pretty close during her speech on Thursday night, calling out Tyler, Angela, and Kaycee for working together, but she missed Brett, still believing he had come to her side of the house.
In addition to his alliance, Tyler has held on to his cloud app, which will keep him safe from nomination for the next two weeks, if he even ends up needing it, which he probably will not. The only person who has taken a shot at Tyler so far was Haleigh and her reign as head-of-household has just come to an end. If Tyler is smart and he or one of his alliance members win the next HOH competition they will most likely send Haleigh to jury before she gets the chance to take another shot at Tyler.
Most importantly, Tyler has somehow gotten out everyone he has wanted to without getting much blood on his hands. He has only been HOH once and even though he has been involved with every blindside it took until recently for The Hive to realize Tyler had not always voted with them. So if Tyler does make it to the Final two he has done a good job of jury management, ensuring he does not end up with a bitter jury who will vote against him just because of hurt feelings.
Tyler has successfully commandeered the house and no one seems to realize it. He has Kaycee, Angela, and Brett on his side. He has regained Sam's trust and loyalty. JC always votes with the house and The Hive is down to just Faysal, Haleigh, and Scottie, though Scottie is iffy at best. It would be shocking if Tyler does not end up winning this because truly he is the best competitor in the house right now. For someone to actually send Tyler out to jury would be amazing, but it is highly unlikely it will happen. If it does, that person deserves to win for seeing Tyler for the threat he truly is.