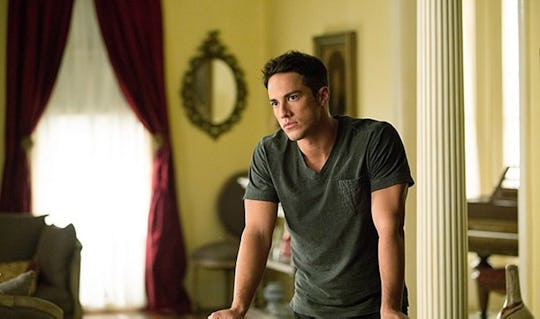 The CW
Is Tyler Dead On 'The Vampire Diaries'? Michael Trevino May Be Gone For Good
If you're anything like me, your jaw undoubtedly dropped to the floor last Friday when Damon — our precious, brooding, bad boy Damon — potentially crossed a major morality line from which there is no return when he appeared to straight up kill Tyler Lockwood in cold blood. But is Tyler really dead on The Vampire Diaries or will our beloved, hunky werewolf be able to recover? Unfortunately, that remains to be seen, but I'm trying to remain cautiously optimistic, at least for the time being. But before I start theorizing about what happened, let's journey back to how everyone found themselves on this dark path in the first place.
Basically, Sybil the Siren (which totally has a nice ring to it) is the worst and was known too happy when she discovered that her two handsome henchmen, Damon and Enzo, were finding ways to resist her control. Initially, she attempted to solve the problem by altering Damon's memories and substituting herself into his subconscious. But even that didn't seem to completely work since Stefan was still fighting harder than ever to safe his beloved brother. That's when she realized what had to happen: Damon would need to do something so terrible that his loved ones would never forgive him. Enter Tyler.
Like a lamb to the slaughter, Tyler met up with Damon without any backup and thanks to Sybil's control, Damon went in for the kill. Literally. However, the attack was exactly where the episode ended, so it's hard to say if Tyler is really a goner or this was just one big fake out. Tyler is a werewolf after all, and supernatural creatures tend to be more resilient than the average human. So I haven't completely lost hope yet.
I mean, yes, Trevino hasn't be credited for any upcoming episodes on his IMDB page, but that's not always reliable, depending upon how recently the site was updated. But isn't Tyler like the only person who knows where Elena's body is hidden? Doesn't that mean the characters need him in order to bring her back into the picture (and fans definitely want her back in the picture). I suppose fans will just have to wait and see what happens this Friday to fully understand Tyler's fate. But I'm hoping it isn't as dire as it all looks. Because if he is dead and it was by Damon's hand, this Salvatore may have finally taken things a step too far. There may be no way to come back from this.