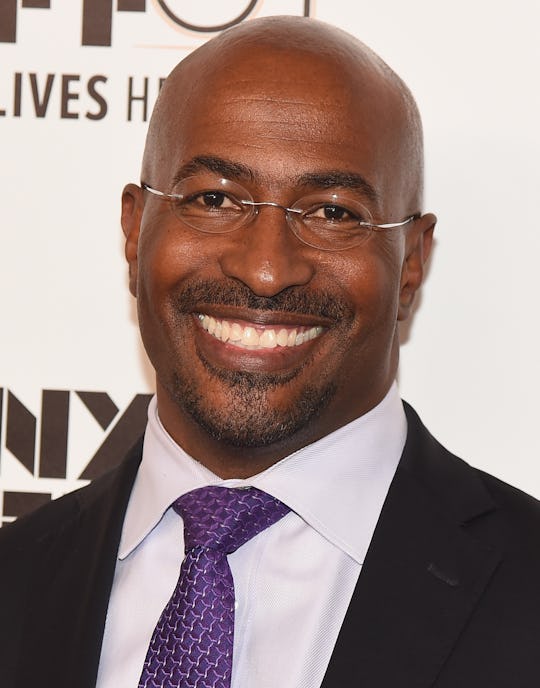 Theo Wargo/Getty Images Entertainment/Getty Images
Is Van Jones Married? The CNN Commentator Talked About His Kids, Post-Election
On election night, emotions ran high. The consequences of the results from the election were never clearer until CNN commentator Van Jones looked into the camera and said something that everyone had yet to say: How will I explain these results to my children? Jones' emotional statement and the overall message behind it prompted many questions about the commentator himself — his background, his resume, whether he supported Hillary Clinton all along. A few wondered whether Van Jones was married, as the emotion behind his comments on election night clearly showed that he was worried about the family he had at home.
If Jones' speech has not infiltrated your Twitter or Facebook feed, here is a brief summation of what was said: On early Wednesday morning, election results were rolling in, and it seemed more than likely that Donald Trump would become President of the United States. In a very courageous move, Jones gave an amazing statement about how it felt to be a father forced to explain the results of the election to their children:
You tell your kids "Don't be a bully." You tell your kids "Don't be a bigot." You tell your kids "Do your homework and be prepared." Then you have this outcome, and you have people putting children to bed tonight and they're afraid of breakfast. They're afraid of "How do I explain this to my children?"' I have Muslim friends who are texting me saying, "Should I leave the country?" I have families of immigrants who are terrified tonight.
It was a powerful, moving moment that stopped many people's hearts — but unfortunately, for the people out there who fell in love at first sight with Jones after this segment, he is married to a woman named Jana Carter. (Sorry, I know it's been a rough week already.)
Not much is known about Jana Carter. She does not not have an Instagram where she posts selfies of herself with her husband and family. Instead, on Twitter, she shares positive posts praising her husband — which proves she is his number one fan. According to a profile about Jones in The New Yorker, Carter is "an employment lawyer."
Jones revealed a little more information about his wife to Oakland Magazine in 2009. "She used to run marathons and climb mountains," he said. "She is a power tools kind of girl. [She's] very independent, which makes it a little easier for her. She's not sitting there, waiting for me to fix the plumbing. She's very resourceful."
The children Jones is speaking about in his very touching comments are his two young sons, who are around ages 8 and 12 years old, respectively. "I've got an older boy that is an incredible athlete; the kid can play any sport imaginable," Jones told CNN in 2013. "And I've got another son who is very introverted, he seems to be an artist like me."
Carter doesn't appear to enjoy the spotlight. Her Twitter bio mentions nothing about her husband or her career. An old photo from 2008 on Jones' Facebook account shows a glimpse of Carter and their two children — but the photo is eight years old.
So yes. Unfortunately for all of the ladies out there, Jones is definitely not single. He does, however, appear to have such a doting wife and a great connection with his kids — and perhaps more importantly, a passion for fighting for them tooth and nail.