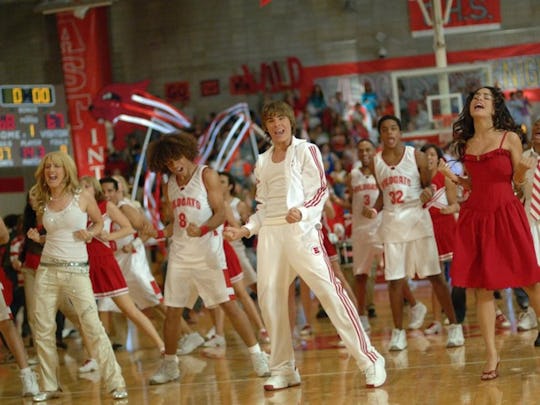 Disney Channel
Is Vanessa Hudgens Returning For 'High School Musical 4'? She & Zac Efron Haven't Made Up
Earlier this month, Disney announced High School Musical 4 is currently "in development." That's right, the teen musical theater series responsible for making the stage super cool and, arguably, for launching the careers of Lucas Grabeel, Zac Efron, and Vanessa Hudgens is back, and it seems fans couldn't be happier. But will all of our faves be returning for this fourth installment? Will Vanessa Hudgens be in High School Musical 4?
Maybe, maybe not. While Hudgens has yet to confirm or deny her role in the flick, several media outlets have reported Hudgens and co-star Efron are still on "bad terms" since their 2010 breakup and, according to Hollywood Life, the two cannot even share the same space (let alone the same set):
Vanessa and Zac are on bad terms and they don't want to see each other. Things would be awkward and there would be a lot of issues that would come up and they wouldn't feel comfortable faking it in front of cameras.
And, in January, Hudgens swore she wouldn't show up to film's 10th anniversary reunion special if Efron was going to be there. (Yikes! Talk about "bad blood.")
However, feud aside, it seems Efron and Hudgens may not even be asked to join the cast. I know, I know: how can they have a High School Musical movie without the original Wildcats? But, before you loose another night's sleep, consider this: The original film was made 10 years ago, and the most recent installment was made eight years ago... when the cast was younger and — um — more high-school-y. Casting Hudgens or Efron now wouldn't only create a personal problem, but it would create a logistical one, unless they are teaching there at their old alma mater. (That could be cool!)
Fans of the series aren't sure what to think. I mean, many have been begging for a fourth film for years, but now that the sequel is finally in production — and an open casting call for High School Musical 4 has been announced — feelings are mixed:
There is no synopsis, cast list, or release date yet available, though it seems High School Musical 4 will be directed by Jeffrey Hornaday and written by Peter Barsocchini, at least according to IMDbPro. And, since Barasocchini has been involved with High School Musical from the its start, his involvement is something all fans should be excited about.