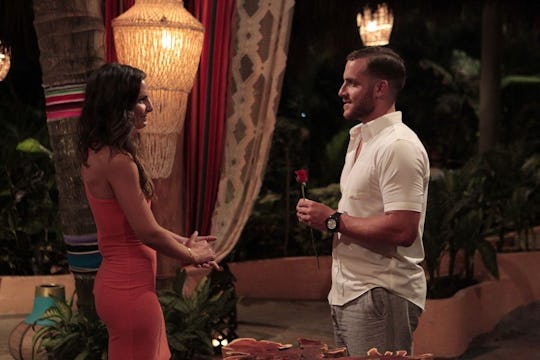 Rick Rowell/ABC
Is Vinny Single After 'Bachelor In Paradise'? His Relationship Status Is Unclear
There are a few relationships that blossomed on Bachelor in Paradise soon into the season and have remained mostly unchallenged so far. It's gotten to the point where the new men and women arriving to the beach basically know to not even try anything with these couples, because those cast members are "taken." One of those relationships, between Izzy Goodkind and Vinny Ventiera, has been particularly steady – but we still don't know whether #TeamVizzy managed to go the distance. Is Vinny single after Bachelor in Paradise?
To recap: Vinny, the barber from JoJo Fletcher's season of The Bachelorette, showed up in Paradise with a significantly better haircut, fresh off of his mother totally stealing the show at After the Final Rose in the most epic way. Izzy, from Ben Higgins' season of The Bachelor, was eliminated on the first night of that season, so we didn't know much about her — aside from the fact that she likes onesies and, incidentally, puns — going into the third season of the beach-set spin-off. Somehow, the two vibed instantly and really hit it off. By the first night in Mexico, the two were making out in the ocean — and trying to avoid Hurricane Chad and Lace along with everyone else.
Vinny and Izzy have been pretty much all over one another all season, and no one has come between them yet (operative word: yet). They even went on the first Bachelor in Paradise double date in the show's history with other solid-as-a-rock couple, Grace Kemp and Lace Morris, on the August 16 episode.
The show filmed back in early-mid June and had wrapped by July. Since then, it's been hard to tell just from their social media activity whether Vinny and Izzy are still together, outside of the show. At the very least, it's clear that the two have remained on good terms with one another: They've both been heavily tweeting and retweeting support for their couple name #Vizzy – which kinda sounds like a futuristic soft drink or a French water brand, to be honest.
"I still can't get this little smirk off my face" definitely seems to imply that they're still a couple, post-Paradise.
The two have also publicly hung out together after the show wrapped. Izzy shared a photo via Instagram of the two hanging out with fellow Bachelor nation alums Will Haduch and Olivia Caridi.
It remains to be seen whether the two are just keeping up appearances by continuing to tweet support for their coupling, knowing that things ended between them on the series, or if they actually continued dating (or even got engaged) after leaving the show. Of course, the promo for next week seems to suggest that the two are breaking up – Vinny is seen saying that, though he thought he'd be leaving Paradise with Izzy, the two have been "ripped apart."