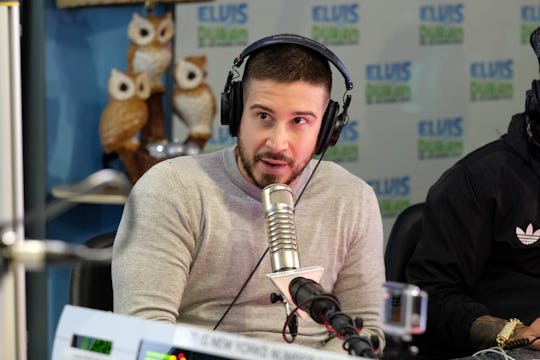 Dia Dipasupil/Getty Images Entertainment/Getty Images
The Thirst For Vinny Is Very Real On 'Jersey Shore Family Vacation'
MTV's Jersey Shore reboot is equal parts charming and cringeworthy, just like the original series was the first time around. And while the cast members inexplicably look even better as they age, one in particular came back with a killer body, laying thirst traps for all of Twitter. Thanks to a keto diet, Vinny Guadagnino came back baby fat-free, as Pauly D put it, so naturally, fans are wondering: is Vinny single on Jersey Shore Family Vacation? Viewers did meet a special lady in the season premiere, but that relationship sadly couldn't stand the test of reality TV.
Vinny has always been something of an outlier on Jersey Shore. The quiet Staten Island native came to the show the first time around with a background as a political aide, having just graduated with a political science degree, a 3.9 GPA, and Latin honors. He had taken the LSAT and was planning to go to law school, but then MTV came knocking.
During Season 5, Vinny was even refreshingly candid about his struggle with anxiety, which flared up severely during filming. He was able to acknowledge that the free-flowing alcohol and hard partying that goes down on the show probably wasn't best for his mental health at the time and took a break from filming. After recuperating for awhile back home, Vinny eventually returned to finish out Season 5. So for people who watched Jersey Shore looking for a lovable, nerdy, sensitive, and shy kid to crush on, Vinny was their guy. (He was also the baby of the group as the youngest cast member.)
So when Vinny returned to Jersey Shore Family Vacation with a seemingly serious girlfriend — Instagram model Elicea Shyann — it was hard not to root for them. All the cast members have grown up to some extent, but Vinny had gotten really into nutrition and fitness, moved out of his mom's house and into his own palatial Staten Island pad (yes, they do exist), and had a girlfriend he really cared about and whom his family loved. (We saw a clip of her enjoying family dinner with them during the season premiere, and they embraced her deeply, warning Vinny to "be good" down in Miami.) But unfortunately, it looks like things didn't work out for them in the end.
He told Entertainment Tonight at the Family Vacation premiere party that the pair broke up while he was in Miami, indirectly because of the show. The two were long-distance to begin with (he was in New York and she's based in California), so adding to the mix the isolation of being on a reality show, plus having to explain the constant partying on the few opportunities they did have to speak, weighed on their connection.
Editor's Note: The Instagram post has since been deleted.
Said Vinny:
There was problems beforehand…[the show] is the type of thing that could really be the straw that breaks the camel's back. Not because I'm out there doing anything, you don't talk to the person for a month because you don't have a cell phone, you don't have a TV…you don't have communication so, you're like calling them every other day…On the duck phone! You can't even hear them.
He added that he ultimately "did the right thing" by ending the relationship before some terrible cheating scandal went down, but he has hope that one day, the timing for him and Elicea will be better. For now, Vinny says he's not looking to be with anybody. And considering the fact that Jersey Shore Family Vacation was picked up for a second season before the first one even premiered, that sounds like it's for the best.
Check out Romper's new video series, Romper's Doula Diaries:
Watch full episodes of Romper's Doula Diaries on Facebook Watch.