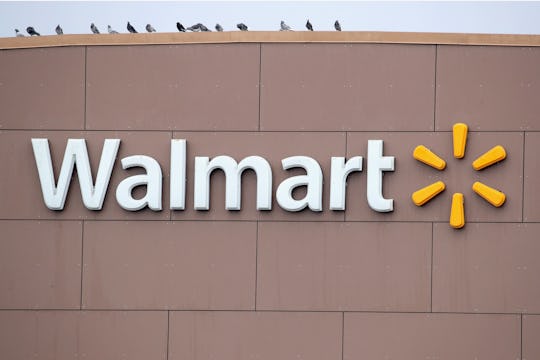 Scott Olson/Getty Images News/Getty Images
Whatever You Need On Thanksgiving Day, Walmart's Got Your Back
With Thanksgiving just around the corner, stores are humming with activity. Just the other day I almost had to fight someone for a grocery cart because every last one was in use. But, even if you think you have everything crossed off your list, chances are you'll realize at least one thing is missing when you're racing around the kitchen on T-Day. So if you find yourself in panic when you realize your forgot the pumpkin pie filling or another key ingredient, you might just find yourself wondering if Walmart is open on Thanksgiving.
The answer is: yes. Walmart stores open at 6 a.m. on Thanksgiving and Walmart Supercenters will continue to be open 24 hours, according to a Walmart representative who spoke to Romper on the phone. That's good news for anyone in a tizzy because the cranberry sauce is MIA. But, if you're interested in kicking off your Black Friday shopping spree as early as possible on Thanksgiving day, you'll have to wait at least until 6 p.m. when the Walmart's Black Friday in-store deals begin, according to the store's website.
However, to all the Doorbuster deal-seekers out there planning on arriving at Walmart early, you will be rewarded for it. The discount chain will be hosting its first-ever Light Up Black Friday party from 4 p.m. to 6 p.m. on Thanksgiving. The event will feature free cookies, cocoa, and coffee, according to store's website. Just make sure you check ahead of time to make sure the Walmart store near you is participating in the event.
Walmart is counting on a big turnout for this new holiday event. "The company expects to pass out four million cups of free Keurig coffee and two million Christmas cookies from the store's bakery to customers," explained Business Insider.
This holiday season, Walmart also has plans to unveil a new app, which will feature a color-coded Black Friday deal map of its stores, as well as pins alerting shoppers to the top eight Black Friday deals in store, according to the same Business Insider article.
If you don't want to deal with the frenzy and lines that come with Black Friday shopping on location, there's good news. Select Walmart Black Friday deals have been available online since November 8, according to USA Today.
What's more, those Walmart lovers hoping to do all of their Black Friday shopping online will also be rewarded with early access on the Wednesday before Thanksgiving, Business Insider shared: "For online shoppers, Black Friday deals will appear on Walmart.com on November 21, starting at 10 p.m. ET."
I've always been against stores being open on Thanksgiving because I think the employees should get to enjoy the holiday with their families. It seems most Americans agree, according to a 2016 bestblackfriday.com survey, which found that nearly 55 percent of Americans either dislike or strongly dislike stores being open on Thanksgiving.
Interestingly enough, roughly the same percentage of American shoppers, 54.29 percent, now prefer to do their holiday shopping online, according to the 2016 bestblackfriday.com survey.
I know I'll be doing all of my holiday shopping on Cyber Monday when even more deals are announced. Walmart has yet to reveal what they have up their sleeve for Cyber Monday, although their website says the deals are coming soon. We'll find out soon enough.